Microsoft Ends Free Windows 10 Upgrade For Customers Who Use Assistive Technologies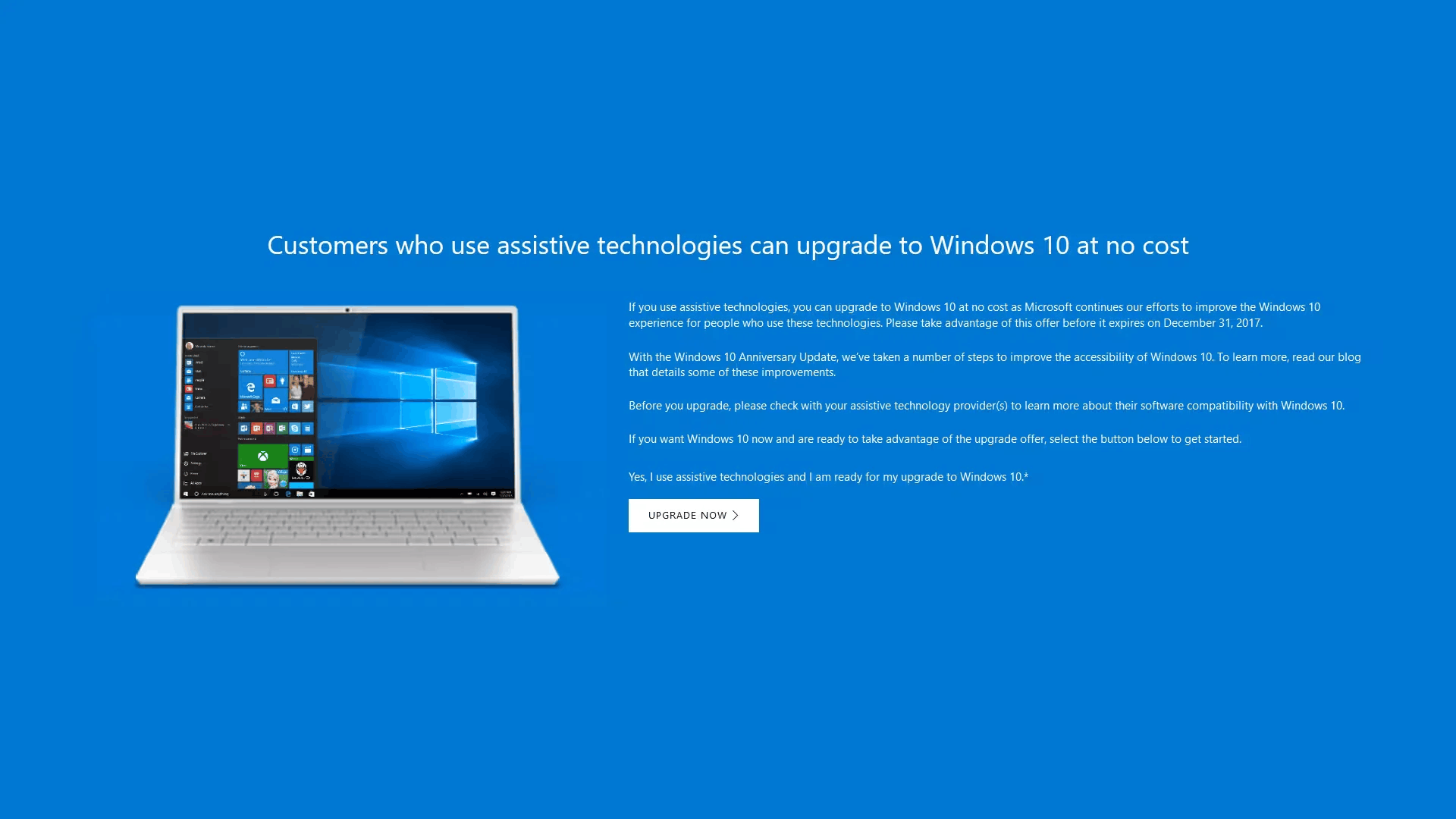 Microsoft stopped offering Windows 10 for free back in July 2016, at least for most users. However, there has been an exception if you use accessibility features, you have had an extension of that promo. Now, Microsoft has announced that it is going to stop offering free Windows 10 upgrade for customers using the "assistive technologies" exception.
Sometime in the past week, Microsoft has quietly updated its site to reveal that free upgrades for those who need assistive technologies will end on December 31st, 2017. As @kdzumba points out via Twitter, that date was first announced by the Microsoft Accessibility account, @MSFTEnable, in a tweet on October 17.
If you're using assistive technologies and want to update to Windows 10, free upgrade available until Dec. 31, 2017. https://t.co/muL1wssDu9

— MSFT Accessibility (@MSFTEnable) October 17, 2017
Now, the general Upgrade to Windows 10 FAQ page has also been revised to include the expiration date for this offer. That page has a "last reviewed" date of October 24, 2017.
If you use assistive technologies, you can upgrade to Windows 10 at no cost as Microsoft continues our efforts to improve the Windows 10 experience for people who use these technologies. Please take advantage of this offer before it expires on December 31, 2017.
The company has not directly explained the timing for the cutoff, but the extension was announced to give extra time to users who had to wait for the July 2016 Anniversary Update before they got promised accessibility features. Given that there have been numerous milestone updates since then, there is a good chance you have already moved to Windows 10 if you were holding out.
This announcement is not going to have a dramatic impact on Windows 10's uptake. Corporations that have planned their upgrades to Windows 10 aren't making budgets based on this loophole. As for individual users, those who wanted to upgrade to Windows 10 have already done it, and new PC's sold comes with Windows 10 pre-installed. And the odds of someone abusing the "assistive technologies" loophole are not that high given how easy it was to score a free copy before July 2016.
This announcement is not exactly shouted from the rooftops. Nonetheless, it is an important milestone: it marks the formal end of Microsoft's bid to modernize and unify the Windows user base by removing the price barrier. If we look at web analytics report from NetMarketShare, Windows 10's usage share is at 29.3 percent in October 2017, but Windows 7 is still the dominant version at 46.6 percent. This means many users choose to skip the Windows 10 upgrade and Windows 7 may live for a long time just like Windows XP did.
So, this marks the end of Microsoft's unprecedented free upgrade offer for Windows 10. If you have been waiting to claim your free Windows 10 upgrade using the "assistive technologies" exception, you need to act soon. After December 31, 2017, you have to pay to upgrade an old Windows PC.