Images Hints Themes For TouchWiz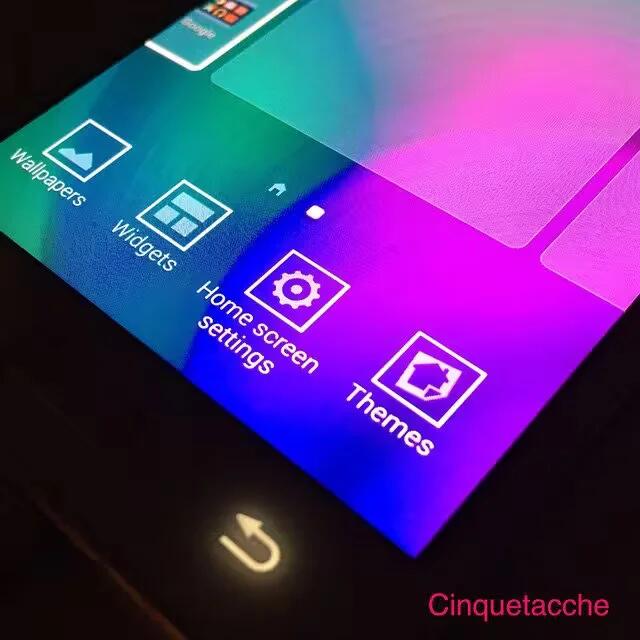 Recently there has been a lot of talk about TouchWiz in the smartphone world for one reason, themes. One of the major reasons smartphone users dislike Samsung's TouchWiz UI is because they just don't like its appearance, adding themes could possibly eliminate that problem. This theme option we are talking about was spotted last week in images of a Samsung Galaxy S5 running Android 5.0 Lollipop, in said images you can clearly see an images option as well as a preview of some different themes available.
Today more images have risen to the surface of the internet that shows the theme option again on the Samsung Galaxy S5. This time there is three images, all of which are high quality and show what appears to be a legitimate theme option that appears when the user long-presses on any home screen page. The themes that are shown in one of the images are the same themes as shown before in the previous images that leaked last week and from what we can see; dont appear to change anything besides the Samsung app icons appearances.
From all of this, the internet has concluded that the next version of ToushWiz, which will presumably be packaged with the Android Lollipop update, will include the themes option for the Samsung Galaxy S5. Logically, other Samsung devices will follow and also be able to use themes when they receive the next version of TouchWiz, some Samsung Tablets as well as the Galaxy Note 4 and Galaxy Alpha devices. But, this is all just an assumption; the Galaxy S5 may be the only Samsung device capable of using the themes option, giving it a unique appeal among potential buyers. We want to know what you guys think about this new themes option potentially coming in the next version of Samsung's TouchWiz.