How To Use Voice Memo App - Samsung Gear 2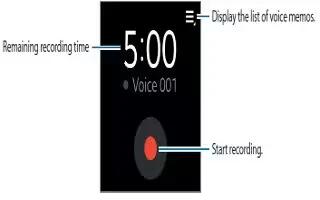 Learn how to use Voice Memo App on your Samsung Gear 2. Use this application to record voice memos. The voice memos recorded on the Gear 2 are automatically transferred to the connected mobile device.
From the Home screen, tap Voice Memo.
Recording voice memos
Tap Start icon to start recording.
Speak into the microphone at the bottom right of the Gear 2.
Tap Pause icon to pause recording.
Tap Stop icon to finish recording.
Tap Cancel icon to cancel the recording.
Playing voice memos
Tap Options icon, and select a voice memo to play.
If spoken content is recorded and then converted to a data file, displays next to the filename.
Note:
The Gear 2 displays the content as text on the screen during playback.
Volume icon: Adjusts the volume levels. Tap + icon or - icon to adjust the volume.
Pause icon: Pauses playback.
Previous icon / Next icon: Skips to the previous or next voice memo.
Note:
You can also connect to a Bluetooth headset to listen to the voice memo.