How To Use Video Camera - LG G Pro 2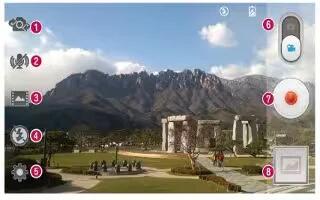 Learn how to use video camera on your LG G Pro 2. When recording a video, place two fingers on the screen and pinch to use the Zoom function. Swap camera: Switch between the rearfacing camera lens and the front-facing camera lens.
Audio zoom: Tap to turn the Audio zoom On or Off.
Recording mode: Choose from Normal, WDR recording, Live effect or Dual recording.
Flash: Tap to turn the flash On or Off.
Settings: Touch this icon to open the settings menu.
Camera mode: Touch and slide up this icon to switch to camera mode.
Start recording
Gallery: Touch to view the last video you recorded. This enables you to access your gallery and view your saved videos while in video mode.
Note: When recording a video, place two fingers on the screen and pinch to use the Zoom function.
Recording a quick video
Open the Camera application and slide the Video mode button.
The video camera viewfinder appears on the screen.
Holding the phone, point the lens towards the subject you wish to capture in your video.
Touch Record icon once to start recording.
A red light will appear at the top left corner of the viewfinder with a timer showing the length of the video.
Touch Stop icon on the screen to stop recording.
Note: Capture Image icon: Touch to capture image during recording a video.
Pause icon: Touch to pause during recording a video.
After recording a video
Touch Gallery icon to veiw the last video you took.
SmartShare icon: Touch to share your video using the SmartShare function.
Record icon: Touch to record another video immediately.
Share icon: Touch to send your video to others or share it via social network services.
Delete icon: Touch to delete the video.
Note: Additional charges may apply when MMS messages are downloaded while roaming.
Watching your saved videos
From the Viewfinder tap Gallery icon, you can see the camera gallery. Tap on video play icon to play the video.
Adjusting the volume when viewing a video
To adjust the volume of a video while it is playing, use the volume keys on the left side of the phone.