How To Use Timer App - Samsung Galaxy S5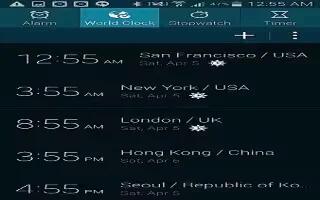 Learn how to use timer app on your Samsung Galaxy S5. You can use this option to set a countdown timer. Use a timer to count down to an event based on a preset time length.
From the Home screen, tap Apps icon > Clock icon > Timer.
To change the time, tap the time inside the circle. The Seconds field is highlighted and set to 30 seconds. Use the keypad to set the number of seconds you want.
Tap the Minutes field to set minutes.
Tap the Hours field to set hours if desired. As you tap different fields, they will become highlighted.
Tap Start to begin the timer and tap Stop to pause the timer.
After stopping, tap Restart to continue or tap Reset to set the timer back to the original setting.