How To Use Stopwatch - Samsung Galaxy S5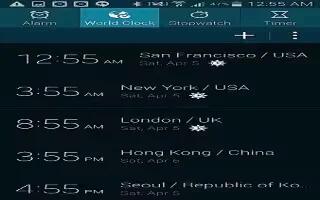 Learn how to use Stopwatch on your Samsung Galaxy S5. You can use this option to measure intervals of time.
From the Home screen, tap Apps icon > Clock icon > Stopwatch.
Tap Start to start the stopwatch and tap Lap to mark a unit of time per lap.
Tap Stop to stop the stopwatch.
Tap Restart to continue or tap Reset to erase all times recorded.