How To Use Display Settings - Samsung Gear Fit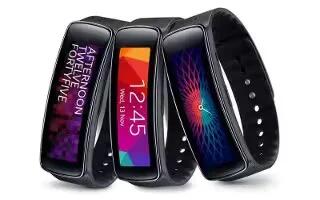 Learn how to use display settings on your Samsung Gear Fit. Change the clock type that displays on the Clock screen.
On the Home screen, tap Settings > Clock.
Scroll left or right on the screen to select a clock type.
Wallpapers
Change the color of the Home screen, or set an image or photo stored in the Gear Fit as wallpaper for the Home screen.
On the Home screen, tap Settings > Wallpapers.
Display
Change the settings for the display.
On the Home screen, tap Settings > Display.
Brightness: Adjust the brightness for the display.
Wrist worn on: Set the hand that you mainly wear the Gear Fit on.
Rotate display: Set the screen orientation for the Gear Fits display.
Screen timeout: Set the length of time the Gear Fit waits before turning off the displays backlight.
Home icon size: You can adjust the size of the icons on the Home screen.
Font size: Change the font type and size for display text of notifications.
Wake-up gesture: Set the Gear Fit to turn on and show a specified screen by using a gesture. Raise the hand that is wearing the Gear Fit and look at the Gear Fits screen for a few seconds. The screen turns on and a preset screen displays.