How To Adjust Brightness - Samsung Gear Fit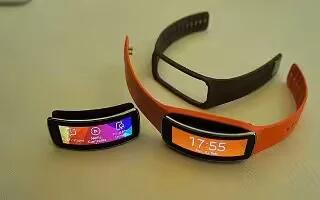 Learn how to adjust brightness on your Samsung Gear Fit. When not in use, lock the Gear Fit to prevent unwanted operation. Pressing the Power button on the Clock screen turns off the screen and locks the Gear Fit. The Gear Fit automatically locks if it is inactive for a specified period.
Press the Power button to unlock the Gear Fit.
Adjusting the Brightness of the Display
You can adjust the display brightness on the Gear Fit to suit the environment.
Tap the screen twice quickly with two fingers, and then tap + or - to adjust the brightness.
On the Home screen, tap Settings > Display > Brightness, and then adjust the brightness.
Note: In bright conditions, such as in direct sunlight, you can set the brightness of the Gear Fits display at the maximum to use Outdoor mode. If the screen remains off for 5 minutes, outdoor mode is automatically reset to the default settings.