How To Use Predictive Text Advanced Settings On Samsung Galaxy Note 2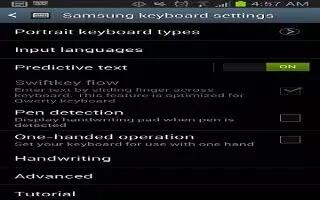 The predictive text system provides next-letter prediction and regional error correction, which compensates for users pressing the wrong keys on QWERTY keyboards on Samsung Galaxy Note 2.
From the Home screen, press Menu key and then tap Settings > Language and input > Settings icon adjacent to the Samsung keyboard field.
or
From within an active text entry screen, touch and hold Input Methods icon > Settings icon to reveal the Samsung keyboard settings screen.
In a single motion touch and slide the Predictive text slider to the right to turn it on.
Tap the Predictive text field and configure any of the following advanced options:

Personalized data activate this feature to use the personal language data that you have entered and selected to make your text entry prediction results better. By enabling this feature you can choose from the following personalization features:
Learn from Facebook: allows you to log into your current Facebook account from where style and contact names are added to your personal dictionary for later use when you enter names into text fields. Helps recognize familiar names.
Learn from Gmail: allows you to sign in to your existing Gmail account from where your style and existing contact information is added to your personal dictionary. Helps recognize familiar names.
Learn from Twitter: allows you to sing into your existing Twitter account from where your style and names and words are added to your personal dictionary. Helps recognize familiar names and words.
Clear remote data: deletes your anonymous data stored on the personalization server.
Clear personalized data: removes all personalized data entered by the user.
Privacy: allows you to review the current privacy policy.

Press Back key to return to the previous screen.
For more information, read "How to use Predective Text."