How To Use Play Store On Samsung Galaxy Tab 2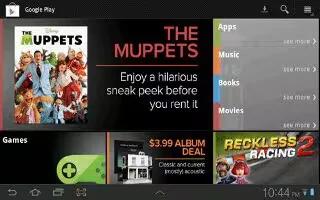 Google Play Store provides access to downloadable applications and games to install on your Samsung Galaxy Tab 2. It also allows you to provide feedback and comments about an application, or flag an application that might be incompatible with your device.
Note: A shortcut to Play Store displays on the main Home screen by default.
From the Home screen, touch Play Store.
or
From a Home screen, touch Apps > Play Store.
If you are not already logged in with your Google account, the Add a Google Account screen displays.

Touch Existing, if you already have a Google account, or New to create a Google account. For more information, refer to How to set up Gmail Account.

The first time you open Play Store, read the Google Play Terms of Service, the Google Music Terms of Service, the Google Books Terms of Service, and the YouTube Rentals Terms of Service, then touch Accept to continue.
To browse for items to install, touch Apps, Games, Music, Books, or Movies. Touch a tab, such as CATEGORIES, FEATURED, TOP PAID, or TOP FREE to refine your search.
Updates to Downloaded Apps
You can check for new versions of applications by visiting the Google Play Store. Items that have a new version available will say Update. You can also select apps that you would like to be updated automatically. To do this:
From the Home screen, touch Play Store.
Touch Installed Apps.
Touch the Installed tab to list the Play Store apps installed on your device. Update is displayed is there is an update available for the app.
Touch Allow automatic updating on an app to enable automatic updating.
Touch Open to open the app on your device.
Touch Update to update the app on your device.
Note
This article will work on both Samsung Galaxy Tabs; including Samsung Galaxy Tab 2 7.0 and Samsung Galaxy Tab 2 10.1.