How To Use Play Books App - Samsung Galaxy Tab 3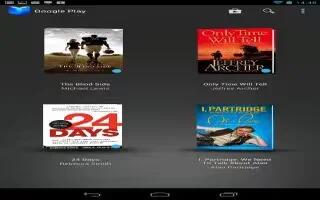 Learn how to use Play Books App on your Samsung Galaxy Tab 3. Use the Play Book app to read eBooks from the Internet-based Google Play Book service. Google eBooks is a new way to discover, buy, and enjoy your favorite books online and offline.
From a Home screen, touch Apps > Play Books icon.
The Google Play Book main screen displays.
Note: You may be asked to create or sign on to your Google account. For more information, refer to How To Use Accounts - Samsung Galaxy Tab 3.
Play Books Menu
From the Play Book main screen:
Touch Menu key for options.
To configure Play Book settings:
Touch Menu key > Settings.
Follow the on-screen instructions.
Note
This guide will work on all Samsung Galaxy Tabs; including Samsung Galaxy Tab 3 7.0, Samsung Galaxy Tab 3 8.0 and Samsung Galaxy Tab 3 10.1.