How To Use NFC - LG G Pro 2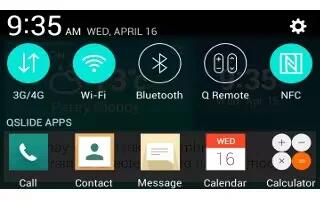 Learn how to use NFC on your LG G Pro 2. Your phone is an NFC-enabled mobile phone. NFC is a wireless connectivity technology that enables two-way communication between electronic devices.
It operates over a distance of a few centimeters. You can share your content with an NFC tag or another NFC support device by simply touching it with your device. If you touch an NFC tag with your device, it will display the tag content on your device.
To switch NFC on or off: From the Home screen, touch and slide the notification panel down with your finger, then select the NFC icon to turn it on.
Note: When airplane mode is activated, the NFC application can be used.
Using NFC
To use NFC, make sure your device is switched on, and activate NFC if disabled.
Direct/Android Beam: When this feature is turned on, you can beam app content to another NFC-capable device by holding the devices close together. Just bring the device together(typically back to back) and then touch your screen. The app determines what gets beamed.
Miracast: Mirror phone screen and sound onto Miracast dongle or TV Wirelessly.
SmartShare Beam: Enable to receive files from LG phones.
File networking: Allows you to share folders with other devices via wireless connection.