How To Use Maps - Huawei Ascend P6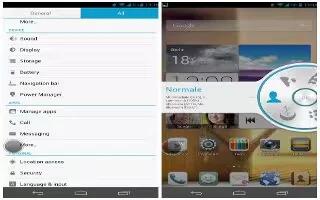 Learn how to use maps on your Huawei Ascend P6. Maps helps you find out where you are, shows you how to get to a destination, and displays real-time traffic. Satellite view is also available.
Turning on location services
Before you use Maps to search for a location, turn on your location services.
On the home screen, touch Settings icon then the All tab.

Touch Location access.

Select the GPS satellites and Wireless networks check boxes.
Searching for places of interest
On the home screen, touch Map icon.

Touch Search icon.

Enter the location you want to search for.

Touch Search icon in the lower right corner of the keyboard.

The search results are marked on the map by letters.

Touch a mark to see how to get there and view more details about the location.
Getting somewhere
When you browse a map, touch Direction icon.

Touch the first text box to enter the start point. Then, touch the second text box to enter the destination.

Select a transportation method: by car, public transportation, or foot.

Touch GET DIRECTIONS.

Available routes are then shown in a list.

Touch the route you prefer to display on the map.

To start a new search, touch Menu > Clear Map to clear the search results.