How To Use Internet And Message Settings On Sony Xperia Z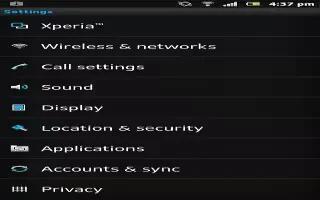 Learn how to use internet and message settings on your Sony Xperia Z. To send text and multimedia messages and to access the Internet, you must have a mobile data connection and the correct settings. There are different ways to get these settings:
For most mobile networks and operators, Internet and messaging settings come preinstalled on your device. You can then start using the Internet and send messages right away.
In some cases, you will get the option to download Internet and messaging settings the first time you turn on your device. It is also possible to download these settings later from the Settings menu.
You can manually add and change Internet and network settings on your device at any time. Contact your network operator for detailed information about Internet and messaging settings.
To download Internet and messaging settings
From your Home screen, tap Apps icon.
Find and tap Settings > Xperia > Internet settings.
Tap Accept.
To reset the default Internet settings
From the Home screen, tap Apps icon.
Tap Settings > More > Mobile networks > Access Point Names.
Press Menu icon.
Tap Reset to default.