How To Use Handwriting Feature On Samsung Galaxy Tab 2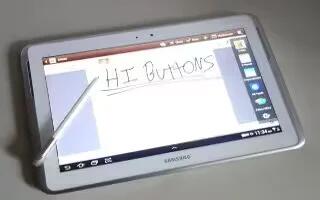 You can enter text simply by using your finger to handwrite letters on your screen of Samsung Galaxy Tab 2. Continue reading on how to use it.
From a screen where you can enter text, activate the keyboard by touching a text input field on the screen.
If necessary, touch Set up input methods in the Status bar and then touch Samsung keyboard. The Samsung keyboard displays.
Touch and hold Settings icon and slide to T text icon. The handwriting pad displays.
Use your finger tip to write out each character.
Note: To properly recognize the written characters and to prevent scratching of the LCD, do not use script.
As you write, suggestions are offered in the word options area in case the correct letters were not recognized.
Handwriting Tips on Samsung Galaxy Tab 2
For uppercase letters, write the letter larger than the lowercase letters.
Write a dash (horizontal line) to add a space.
Delete words by sweeping backward across them.
To display numbers and symbols, touch ?#+ and then touch a number or symbol key. Touch the button marked 1/3, 2/3, or 3/3 to see more symbols and emoticons. Touch X to exit the numbers and symbols keyboard.
To return to the Samsung keyboard, touch Keypad icon.
How to customize Handwriting Settings on Samsung Galaxy Tab 2
To change the Handwriting settings:
Touch and then touch Set up input methods. The Language and input settings screen displays.
Touch Settings icon next to Samsung keyboard to display Samsung keyboard settings.
Touch Handwriting.
The following settings can be changed:
Recognition time: Set the time it takes for your tablet to recognize what you write. Choose from 100ms, 300ms, 500ms, 1000ms, or 2000ms.
Pen thickness: Change the pen thickness to 1, 3, 5, 7, or 9 pixels, as the examples demonstrate.
Pen color: Change the pen color to black, red, blue, green, or brown.
Recognition type: Set the way your tablet recognizes what you write.

Complete recognition: The letters are not entered in the text field until you touch Enter, which gives you time to choose word options.
Stroke recognition: The letters are entered in the text field as you write.

Gesture guide: Displays a list of gesture that can be used with the handwriting feature.
Tutorial: Displays information for entering handwritten text.
About: Describes the version, date, and manufacturer of the handwriting software.
Press Return icon repeatedly to return to your message.
Note
This article will work on both Samsung Galaxy Tabs; including Samsung Galaxy Tab 2 7.0 and Samsung Galaxy Tab 2 10.1.