How To Use Gyroscope Calibration On Samsung Galaxy S4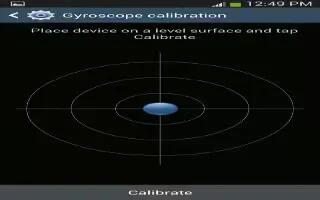 Learn how to use the gyroscope calibration on your Samsung Galaxy S4. Gyroscope calibration allows you to calibrate motion correctly using the devices built-in gyroscope.
From the Motions and gestures screen, tap Gyroscope calibration.
Place your device on a flat surface.
Tap Calibrate.
When finished, Calibrated will appear on your screen.
Tap Back key to return to the previous screen.