How To Use Email – Samsung Galaxy Tab S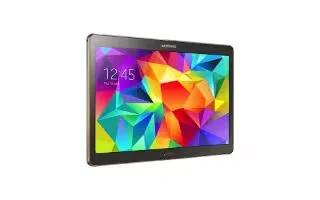 Learn how to use Email on your Samsung Galaxy Tab S. Use Email to view and manage all your email accounts in one application.
Setting up email accounts
Tap Email on the Apps screen.
Set up an email account when opening Email for the first time.
Enter the email address and password. Tap Next for a private email account, such as Google Mail, or tap Manual setup for a company email account. After that, follow the on-screen instructions to complete the setup.
To set up another email account, tap Menu icon > Settings > Add account.
If you have more than two email accounts, you can set one as the default account. Tap Menu icon > Settings, select an account, and then tap Default account.
Sending messages Tap Email on the Apps screen.
Tap Edit icon at the top of the screen to compose a message.
Accessing additional options
While composing a message, tap Menu icon and access additional options.
Schedule sending: Send the message at a scheduled time.
Note: If the device is turned off at the scheduled time, is not connected to the network, or the network is unstable, the message will not be sent.This feature is based on the time and date set on the device. Messages may be sent at an incorrect time if you move across time zones or the network does not update the information.
Priority: Select a messages priority level.
Security options: Set security options for the message.
Reading messages Tap Email on the Apps screen.
Select an email account to use, and new messages are retrieved. To manually retrieve new messages, tap Refresh icon.
Tap a message to read.
Note
This guide will work on all Samsung Galaxy Tab S's; including Samsung Galaxy Tab S 8.4 and Samsung Galaxy Tab S 10.5.