How To Transfer Contacts From SIM Card On Sony Xperia Z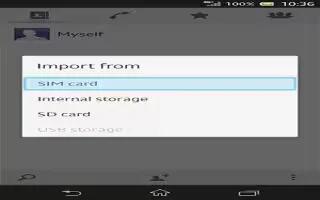 Learn how to transfer contacts from SIM card on your Sony Xperia Z. It is simply called as Import contacts on your Sony Xperia Z.
To import contacts from a SIM card
From your Home screen, tap Apps icon, then tap Contacts icon.
Press Menu icon, then tap Import contacts > SIM card.
If you have set up a synchronization account, you can choose to add the SIM card contacts under that account. Or you can choose to only use these contacts on your device. Select your desired option.
To import an individual contact, find and tap the contact. To import all contacts, tap Import all.