How To Sync With Windows Media Player - Samsung Galaxy Tab 3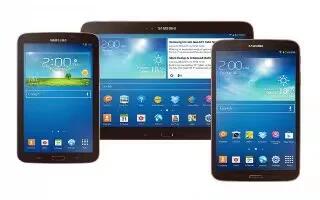 Learn how to sync with Windows Media Player on your Samsung Galaxy Tab 3. You can connect your Samsung tablet or sync your tablet with computer using this method.
Ensure that Windows Media Player is installed on your PC.
Attach your device to the computer with the USB cable. Your computer recognizes the connection and displays the AutoPlay screen.
Click the option to Sync digital media files to this device to synchronize music files.
Select and drag the music files you want to the sync list and begin synchronizing.
When finished, exit Windows Media Player and disconnect the USB cable.
Note
This guide will work on all Samsung Galaxy Tabs; including Samsung Galaxy Tab 3 7.0, Samsung Galaxy Tab 3 8.0 and Samsung Galaxy Tab 3 10.1.