How To Give Your Samsung Galaxy S3s Lockscreen A Personal Touch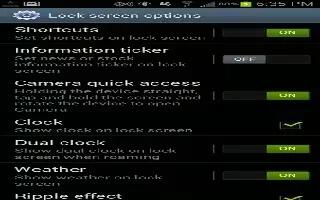 Adding your own apps to your Samsung Galaxy S3s lockscreen couldnt be easier, just follow our simple guide to give a personal touch to your S3's lockscreen. The Samsung Galaxy S3 is a device which is positively brimming with features, options, and potential. One of the most useful things on the device's laundry list of virtues is the ability to customize its lockscreen; giving you brisk access to the apps you use the most.
If you want to add your own favorite apps to your lockscreen, and then follow our walkthrough guide:
Grab your Samsung Galaxy S3.
Tap Menu'.
Choose Settings'.
Select Security'.
Tap Lock Screen Options'.
Next, tap Shortcuts'.
You'll see your four shortcut icons.
To remove unwanted ones simply drag them away to the top of the screen as you would any other widget or shortcut.
To add new ones simply tap on the +' symbol.
You're done! Enjoy.