How To Customize Sound Settings - Sasung Galaxy Tab 3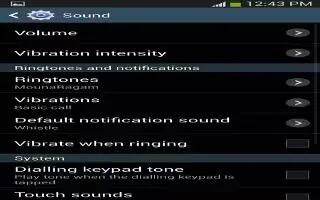 Learn how to Customize Sound Settings on your Samsung Galaxy Tab 3. You can change volume, system, adapt sound and notification settings.
Volume
Set the volume level for all types of sounds.
Touch Settings > Sound > Volume.
Touch and drag the sliders to set the volume for:

Music, video, games, and other media: Sounds made by music apps, video apps, and more.
Notifications: Sounds for alerts to new messages and other events.
System: Application sounds and other sounds made by your device.
Note: You can also set System volume from a Home screen by pressing the Volume Key.
Touch OK to save your settings.
Notifications
Select a default ringtone for message, alarm, and other notifications.
Touch Settings > Sound > Notifications.
Touch a ringtone to hear a sample and select it.
Touch OK to save the setting.
System
You can activate or deactivate both touch and screen lock sounds.
Touch Settings > Sound.
Touch the check box next to either of the following options to activate the feature:
Touch sounds: Makes a sound when you touch the screen.
Screen lock sound: Makes a sound when your screen is locked or unlocked. A check mark appears in the check box when the feature is enabled.
Adapt Sound
You can find the best sound for you and use this while you play music.
Touch Settings > Sound > Adapt Sound.
Read the on-screen instructions.
Touch Start when you are ready to begin.
Note: You must connect earphones to start this process.
Note
This guide will work on all Samsung Galaxy Tabs; including Samsung Galaxy Tab 3 7.0, Samsung Galaxy Tab 3 8.0 and Samsung Galaxy Tab 3 10.1.