How To Customize Sound On iPhone 5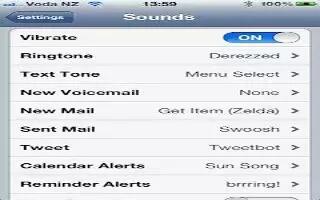 You can set iPhone to play a sound whenever you get a new message, email, call, Tweet, Facebook post, voicemail, or reminders. You can also set sounds for appointments, sending an email, keyboard clicks, and when you lock iPhone. Continue reading on how to customize it.
Change sound settings:
Go to Settings > Sounds. Available options include:

Set whether iPhone vibrates when get a call.
Set whether iPhone vibrates when you turn on silent mode.
Adjust the ringer and alerts volume.
Prevent the side buttons from changing the ringer volume.
Set the ringtone. To set a ringtone for a person, go to their card in Contacts.
Set alert and other tones.
Turn on keyboard clicks and a sound for when when iPhone locks.
Set vibration patterns:
Go to Settings > Sounds and choose an item from the Sounds and Vibration Patterns list.
Tap Vibration to select a pattern.
Define a custom vibration pattern:
Tap an item in the Sounds and Vibrations list, and then tap Vibration. Tap Create New Vibration then define the pattern by touching and tapping the screen.
Note
This article will work on all iPhones using iOS 6; including iPhone 3GS, iPhone 4, iPhone 4S, and iPhone 5.