How To Reset iPhone 5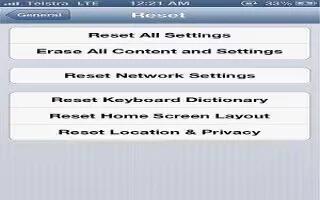 You can reset the word dictionary, network settings, home screen layout, and location warnings. You can also erase all of your content and settings. Continue reading on how to reset the above mentioned settings on your iPhone.
Reset iPhone:
Go to Settings > General > Reset, then choose an option:

Reset all settings: All your preferences and settings are reset.
Erase all content and settings: Your information, and settings are removed. iPhone cannot be used until its set up again.
Reset network settings: When you reset network settings, your list of previously used networks and VPN settings not installed by a configuration profile are removed. Wi-Fi is turned off and then back on, disconnecting you from any network youre on. The Wi-Fi and Ask to Join Networks settings remain turned on. To remove VPN settings installed by a configuration profile, go to Settings > General > Profile, then select the profile and tap Remove. This also removes other settings or accounts provided by the profile.
Reset the keyboard dictionary: You add words to the keyboard dictionary by rejecting words iPhone suggests as you type. Resetting the keyboard dictionary erases all words youve added.
Reset the Home screen layout: Returns the built-in apps to their original layout on the Home screen.
Reset location and privacy: Resets the location services and privacy settings to their factory defaults.
Note
This article will work on all iPhones using iOS 6; including iPhone 3GS, iPhone 4, iPhone 4S, and iPhone 5.