How To Customize Camera Settings - Samsung Galaxy Note 3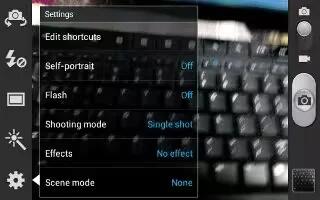 Learn how to customize camera settings on your Samsung Galaxy Note 3.This section describes the different settings that you can configure on your camera. Not all of the following options are available in both still camera and video camera modes. The available options vary by mode.
From the viewfinder, tap Settings icon > (Quick Settings) > (Camera Settings). The follow settings are located under the Camera, Camcorder, and General tabs. The settings that are displayed will depend on what camera mode you are in.
Camera:
Photo size: Select a resolution for photos. Use higher resolution for higher quality. Higher resolution photos take up more memory.
Burst shot: allows several photographs to be captured in quick succession by touching and holding the Camera button.
Tap to take pics: allows you to tap the screen to also take a new picture (vs using the Camera button).
Face detection: allows you to adjust the camera focus based on face detection technology.
Metering: allows you to set how the camera measures or meters the light source: Center-weighted, Matrix, or Spot.
ISO: determines how sensitive the light meter is on your digital camera. Choose from Auto, 100, 200, 400, or 800. Use a lower ISO number to make your camera less sensitive to light, a higher ISO number to take photos with less light, or Auto to let the camera automatically adjust the ISO for each of your shots.
Smart stabilization: compensates for camera movement.
Save as: allows you to assign rich tone usage to an image.
Camcorder:
Video size: Select a resolution for videos. Use higher resolution for higher quality. Higher resolution videos take up more memory.
Video stabilization: Activate or deactivate Optical Image Stabilization.
Audio zoom: when active, allows you to focus your microphone on a zoomed area during video recording.
Settings:
Location tag: attach a GPS location tag to the photo. To improve GPS signals, avoid shooting in locations where the signal may be obstructed, such as between buildings or in lowlying areas, or in poor weather conditions. Your location may appear on your photos when you upload them to the Internet. To avoid this, deactivate the Location tag setting.
Review: set this option if you want to view each picture after you take it. Select a time value.
Volume key: assigns a function to the volume key. Choose from The zoom key, The camera key, or The record key.
Timer: Use this for delayed-time shots. You can set the timer to Off, 2 sec, 5 sec, or 10 sec.
White balance: Select an appropriate white balance, so images have a true-to-life color range. The settings are designed for specific lighting situations. These settings are similar to the heat range for white-balance exposure in professional cameras.
Exposure value: allows you to adjust the brightness level by moving the slider.
Guidelines: Display viewfinder guides to help composition when selecting subjects.
Flash: activate or deactivate the flash.
Voice control: activates/deactivates voice control feature that allows you to verbally take a photo.
Contextual filename: allows you to have your location added as part of the filename. You must first activate GPS tag described above.
Save as flipped: when set to On, this option allows you to take and save a mirror-image video when using self-recording mode.
Storage: Select the memory location for storage.
Shutter sound: Turn the shutter sound on or off.
Reset: Reset the camera settings.