How To Customize Camera Settings On Samsung Galaxy S4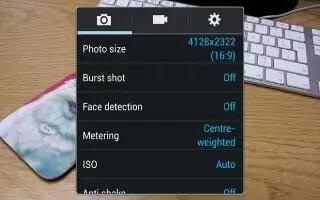 Learn how to customize the camera settings on your Samsung Galaxy S4. This section describes the different settings that you can configure on your camera. Not all of the following options are available in both still camera and video camera modes. The available options vary by mode.
From the viewfinder, tap Quick Settings > Camera Settings icon.
The follow settings are located under the Camera, Camcorder, Share, and General tabs. The settings that are displayed will depend on what camera mode you are in.

Photo size: Select a resolution for photos. Use higher resolution for higher quality. Higher resolution photos take up more memory.
Burst shot: allows several photographs to be captured in quick succession by touching and holding the Camera button.
Face detection: allows you to adjust the camera focus based on face detection technology.
Metering: allows you to set how the camera measures or meters the light source: Center-weighted, Matrix, or Spot.
ISO: determines how sensitive the light meter is on your digital camera. Choose from Auto, 100, 200, 400, or 800. Use a lower ISO number to make your camera less sensitive to light, a higher ISO number to take photos with less light, or Auto to let the camera automatically adjust the ISO for each of your shots.
Anti-Shake: compensates for camera movement.
Auto night detection: activates or deactivates the night detection feature.
Save as: allows you to assign rich tone usage to an image.