How To Configure Google Voice Typing On Samsung Galaxy Note 2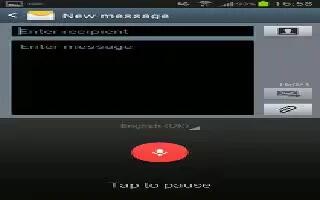 Learn how to configure Google voice typing on your Samsung Galaxy Note 2.
From the Home screen, press Menu key and then tap Settings > Language and input.
or
From a screen where you can enter text, in a single motion, touch and drag the Status bar down to the bottom of the screen, then select Choose input method icon > Set up input methods.
Tap Settings icon adjacent to the Google voice typing field.
Select a language by tapping Choose input languages area.
Remove the check mark from the Automatic field. This allows you to select additional languages.
Select the desired languages.
Activate Block offensive words to block recognition of known offensive words or language. (A green check mark indicates the feature is active).
Tap Download offline speech recognition to enable speech recognition via locally stored files so that even if you are not connected to a network you can still use the service.
For more details on using it, read "How to use Google voice typing."