How To Google Voice Typing Settings - Samsung Galaxy Note 3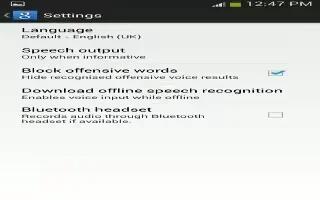 Learn how to Google Voice Typing Settings on your Samsung Galaxy Note 3. This menu allows you to configure the language in which to display the menus. You can also set on-screen keyboard options.
From this menu you can set Samsung keyboard options.
From the Home screen, tap Apps > Settings > Controls > Language and input.
Tap the Settings icon next to Google voice typing.The following options are available:

Choose input languages: tap on a language that you want to input. Select Automatic to use the local language or select a language from the list.
Block offensive words: tap to create a checkmark and enable the blocking of recognized offensive words from the results of your voice-input Google typing.
Download offline speech recognition: Enables voice input while offline.