Free Windows Security Tool: Secunia Personal Software Inspector 2.0 Review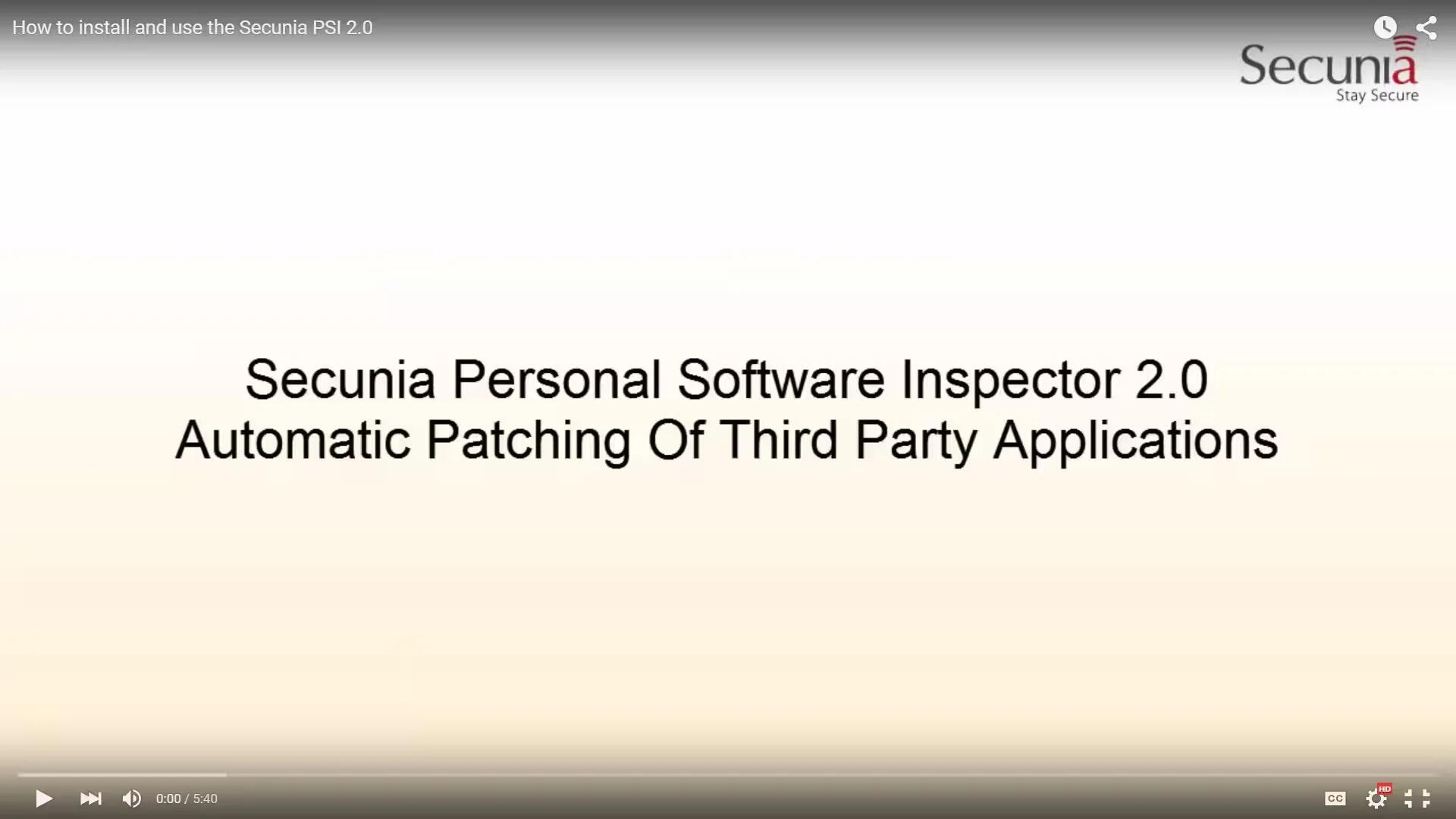 Personal Software Inspector is a free Windows security tool for Home Users, developed by Secunia and used my millions of home users around the world. This tool not only provides extensive details on the software installed on your computer, it also gives you direct links to update programs that are older and potentially not secure.
Attacks exploiting vulnerable programs and plug-ins are rarely blocked by traditional anti-virus and are therefore increasingly "popular" among criminals. The only solution to block these kinds of attacks is to apply security updates, commonly referred to as patches. Patches are offered free-of-charge by most software vendors, however, finding all these patches is a tedious and time consuming task. The Secunia PSI is a security tool is designed to detect these vulnerable and out-dated programs and plug-ins which expose your PC to attacks. It also  automates this and alerts you when your programs and plug-ins require updating to stay secure.
Requirements
System Requirements
The list of requirements that must be met for the Secunia PSI to function correctly are:
Supported Operating Systems (32 & 64 bit):
Microsoft Windows 7
Microsoft Windows Vista SP 1 or later
Microsoft Windows XP - SP 3
Privileges
To install and run the Secunia PSI you require administrative privileges.
Connectivity
Access to Secunia's encrypted servers via SSL (https://psi.secunia.com:443/) and access to Microsoft Windows Update servers.
Software Requirements
Windows UpdateThe latest version of Microsoft Update. You can determine whether or not you are running the latest version by visiting update.microsoft.com. If you are able to check your system for missing updates through this tool, your system should function properly with the Secunia PSI.
Hardware Requirements
There are no additional hardware requirements. If your computer runs any of the above mentioned Operating Systems, then Secunia PSI should work.
Languages
Available in 42 languages. For more details about the available languages click here.
Review
Secunia PSI (Personal Software Inspector) is an update tool that detects and critical patches for the programs installed in you computer. PSI scans your for the list of software installed in your system and then compiles a signature for each and every program found and sends it to the Secunia server which checks it against its database.
During the scan process, PSI follows a series of steps which includes downloading search rules from the Secunia server via secure HTTP protocols, searching files on local fixed drives, collecting information about files and the operating system, determining missing Microsoft security patches, and matching date with the Secunia file signatures engine. Once the scan has been successfully completed, a pop-up window displaying the current Secunia system score appears.
PSI prepares a security report on how many software/application requires an update. With this methodology PSI offers a complete package when it comes to the downloading of updates. Furthermore, a wizard guides the user to the suitable link-he only has to click it. PSI is the most user-friendly of all the update tool applications. The welcome screen informs the user of all relevant information, such as the last time a full system scan was run and state of their applications. If there are any security concerns, PSI will automatically alert the user with warnings.
Links
Download Secunia Personal Software Inspector 2.0
Secunia Official Video: How to install and use the Secunia PSI 2.0 Video