Download Music From Spotify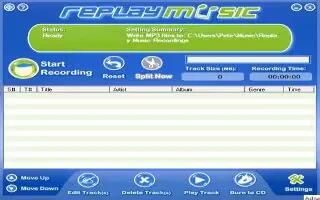 You can download music from Spotify, follow the simple steps below
Download a tool that records sound on your computer. One of the best tools for this is Replay Music 3, which is freeware for the first 20 songs.
Open up Spotify. Arrange the tracks you want in a separate playlist in the order you want them in.
Open up your recording program. (e.x. Replay Music 3.)
Play the songs. You should see input levels on your recording program.
Wait for all of the songs to finish playing and recording.
If you need to, rename the songs. Most recording tools will be able to identify the song you are downloading.
If you need to, convert the files to either .WMA, WMV or MP3 files. Most recording tools will record the song in one of these formats anyway. All these formats are compatible with Windows Media Player. If you want to put them on an iPod, they will need to be either MP3 or MP4 formats.
The files are now ready to be played, transferred to a MP3 player or iPod or burned to a disk.
Note
If you are using the free version of Spotify, most recording programs only keep the track if the file is longer than 35 seconds. All adverts on Spotify Free are only 30 seconds, so they should be automatically deleted from the recorded tracks.
You do not need to manually add breaks between tracks. There is always a short gap between songs on Spotify as it changes track. The recording program should recognise these.