How To Use Music - Samsung Galaxy Mega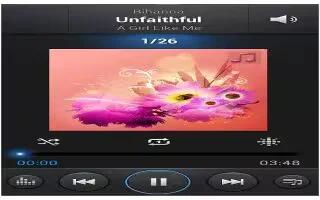 Learn how to use music on your Samsung Galaxy Mega. Music is an application that can play music files. Music supports files with extensions AAC, AAC+, eAAC+, MP3, WMA, 3GP, MP4, and M4A. Launching Music allows you to navigate through your music library, play songs, and create playlists (music files bigger than 300 KB are displayed).
Playing Music
Tap App > Music.

Tap a library category at the top of the screen (Songs, Playlists, Albums, Artists, Music square, or Folders) to view the available music files.

Scroll through the list of songs and tap an entry to begin playback.The following Music controls are available:
Pause icon Pause the song.

Start icon Start the song after pausing.

Rewind icon Press and hold to rewind the song. Tap to go to previous song.

Forward icon Press and hold to fast-forward the song. Tap to go to next song.

Sound icon Volume control and sound effects.

Mute icon Volume control showing volume muted.

List icon Plays the entire song list once.

Replay icon Replays the current list when the list ends.

Repeat icon Repeats the currently playing song.

Shuffle icon Shuffles the current list of songs randomly.

Shuffle Songs play in order and are not shuffled.

playlist icon Lists the current playlist songs.

Display icon Displays the current song in the player window.

Favorite icon Assign the current song as a Favorite.
Streams the current music file to another device via Samsung Link.

Press Menu > Settings to modify your Music settings.

Press Menu to access additional options.