Digital Strom ODE Gaming PC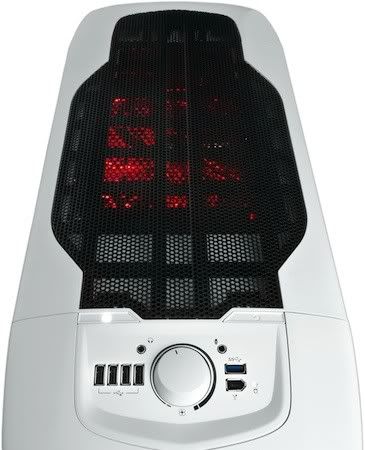 Digital Stroms first pre-built gaming system, the ODE. Available on Good, Better, Best, or Ultimate configurations, it packs Core i7-2600K Processor, can be overclocked to 5GHz, NVIDIA GTX 570 graphics, 8GB RAM and a 1TB HDD can be paired with SSD up to 120GB. The starting price will be $1,499 for base model and $2,499 for ultimate edition. For more details read the press release and click on the source link to order yours.
Here is the Source Link
Here is the Press Release
Digital Storm's ODE Redefining the Perfect Gaming PC
Pre-built, fully loaded and totally optimized, the ODE's dominant gaming power demolishes any game it encounters
Fremont, Calif. (May 24, 2011) Digital Storm, the predominant name in computer system integration and engineering, proudly announces its first pre-built gaming system, ODE. The ODE is a dramatic departure from Digital Storm's legendary and individually customized gaming rigs. Now, PC gamers can easily acquire the best technology without having to select each individual component, as Digital Storm has pre-selected and fully optimized all of the hardware inside the ODE. The result is the perfect gaming PC that delivers unparalleled performance per dollar.
"If ever there was an indictment against PC gaming, it's that it can be an expensive passion, that's why most gamers build their own rigs. Digital Storm has never liked this status quo, so we set out to create a machine that would deliver the extreme performance PC gamers want without breaking the bank. That is how the ODE was born," said Rajeev Kuruppu, Digital Storm's Director of Product Development.
The ODE demolishes any game it encounters thanks to its arsenal of bleeding edge hardware. Spearheaded by a liquid cooled 5.0GHz extreme overclocked Intel i7 2600K processor, dual SLI configuration of two NVIDIA GTX 570's, and a blazingly fast Intel solid state drive, the ODE delivers the type of fluid smooth graphics gamers drool over.
Each and every ODE is made with the same boutique level quality and care that every Digital Storm system is famous for. The ODE is pre-built and fully loaded with a perfectly balanced configuration that can ship in 72-hours. This means the ODE would get to gamers as quickly as possible so they can take this beast right out of its box, hook-up it up, and begin dominating the competition.
Digital Storm's ODE gaming rigs are available in four different pre-set configurations starting at $1,499 and are available for purchase at http://www.digitalstormonline.com/ode.asp
For images or additional information, please contact Digital Storm Media Representative Brian Metcalf at brianmetcalf@maxborgesagency.com or 305-576-1171 x11.
Digital Storm ODE Technical Specifications
About Digital Storm
Founded in 2002, Digital Storm has rapidly emerged as the predominant name in system integration. With expertise in gaming and workstation PCs, Digital Storm's mission is to deliver its customers bleeding edge technology and performance, coupled with rock solid stability and support. As a validation of Digital Storm's success, the company has maintained an "A+" rating with the Better Business Bureau and its systems have received the industry's most prestigious awards. www.DigitalStormOnline.com