LG Revolution Now At Verizon For $250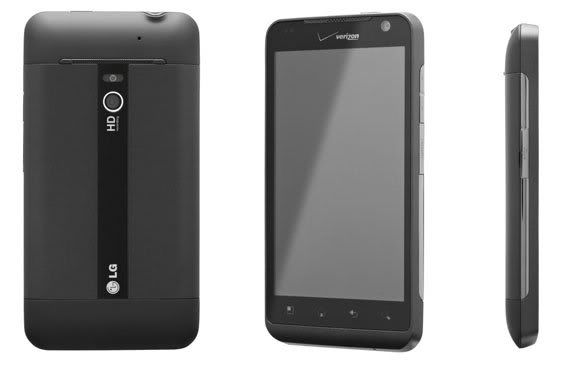 LG Revolution now came to Verizon at $250. LG seems to think that Revolution has more to do with such niceties as HDMI out, the Android 2.2 mobile OS, and 16GB microSD card. The pre-installed Netflix app does seem nice. The nationwide talk plans starts at $40 with unlimited data for $30. Click on the source link to buy yours, and dont forget to check out the press release and full specs.
Here is the Full Specification
Click here to buy LG Revolution
Here is the Press Release
Revolution by LG Arrives for Verizon Wireless
Dynamic Trio of 4G LTE, Entertainment and Power Combine to Make Revolution by LG
BASKING RIDGE, N.J., and SAN DIEGO, May 24, 2011 /PRNewswire/ -- Verizon Wireless and LG Mobile Phones today announced Revolution by LG will be available in Verizon Wireless Communications Stores and online at www.verizonwireless.com on May 26.
An entertainment powerhouse, Revolution by LG is the first Android smartphone preloaded with the Neflix application, allowing Netflix subscribers access to movies and television shows. Revolution customers can capture and share HD images or videos on a 4.3-inch capacitive touchscreen. Built-in HDMI output and SmartShare capability allow customers to share multimedia content with HDMI capable displays, creating an exceptional entertainment experience.
Key features:
* 4G LTE customers can expect download speeds of 5 to 12 Mbps and upload speeds of 2 to 5 Mbps in 4G Mobile Broadband coverage areas
* 1 GHz Qualcomm Snapdragon processor
* Android 2.2 platform
* Access to more than 200,000 apps available to download from Android Market
* Bing Search and Maps
* Adobe Flash Player
* Rear-facing 5.0-megapixel camera with autofocus and LED flash
* 1.3-megapixel front-facing camera for video chat
* 720p HD video recording and playback
* Wi-Fi connectivity 802.11 b/g/n
* Mobile Hotspot capability allows customers to share 4G LTE with up to 8 Wi-Fi-enabled devices or a 3G connection with up to 5 devices
* Bluetooth Version 3.0 Support Profiles: headset, hands-free, object push, advanced audio distribution (stereo), audio/video remote control, file transfer, phone book access
Additional features:
* V CAST Apps
* Virtual QWERTY keyboard with SWYPE technology
* Equipped with Dolby Mobile for a rich listening experience
* Extensive image editor includes: crop, rotate, resize, apply filters, image adjustments, draw, write, erase and add stamps
* 16 GB preinstalled microSD card
Pricing and availability:
Revolution by LG will be available in Verizon Wireless Communication Stores and online at www.verizonwireless.com for $249.99 with a new two-year customer agreement.
Revolution customers will need to subscribe to a Verizon Wireless Nationwide Talk plan and a data package. Nationwide Talk plans begin at $39.99 for monthly access. An unlimited data package is available for $29.99 for monthly access. The Mobile Hotspot feature will be included for a limited time at no additional charge.
The Verizon Wireless 4G LTE Mobile Broadband network, launched in December 2010, is the fastest, most advanced 4G network in the United States, providing speeds up to 10 times faster than Verizon Wireless' 3G network. Verizon Wireless' 4G LTE Mobile Broadband network currently reaches one-third of all Americans, with plans to expand the network to the company's entire 3G coverage area over the next three years.
For more information on Verizon Wireless products and services, visit a Verizon Wireless Communications Store, call 1-800-2 JOIN IN or go to www.verizonwireless.com.