Origin EON 17-S Gaming Laptop Up For Order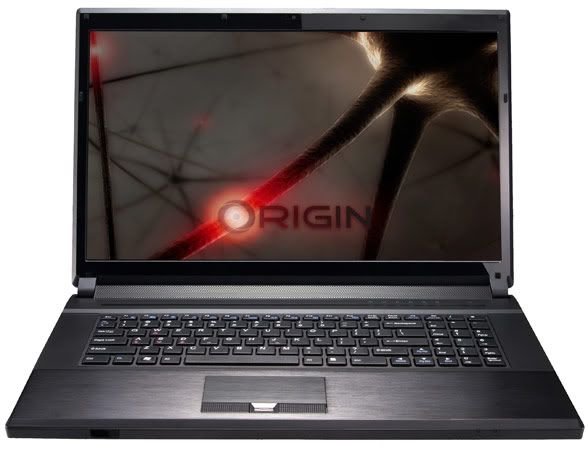 Origins EON 17-S gaming notebook, though a $3,000 dent in your wallet could severly compromise your purchasing power for the next few months. That is the starting price for this gaming laptop, with a 2.5GHz Intel Core i7-2920XM Quad-core Processor factory overclocked to 4.5GHz, and max the system out with 32GB of RAM, dual 480GB SSDs and a 2GB NVIDIA GeForce GTX 485M GPU will send the price tag north of $10,000. We had rather us the money as a down payment on a Tesla Roadster, but if helping to rebuild the economy with the best, brightest, and heaviest computing monster on your lap is just what you need. For more details read the press release
Here is the Press Release
The Highest Mobile Processor Clock Speed in the World
Miami, FL April 25, 2011 ORIGIN PC announced today the availability of overclocked processors in the EON17-S. Featuring 2nd generation INTEL "Sandybridge" processors and NVIDIA GeForce GTX 485M graphics cards, the laptops are the most powerful ORIGIN laptops available with mobile processors. The EON17-S laptops have updated B3 stepping motherboards and feature overclocking and Turbo Boost technology allowing ORIGIN engineers to successfully increase the speed and power of the processor without impacting system stability or longevity. EON17-S laptops with overclocking are fully covered by ORIGIN's unsurpassed warranty featuring free part replacement, free shipping, and free lifetime support.
EON17-S Features and Technology:
* 17.3 Full HD Widescreen, LED Backlit, 16.9, 1920 x 1080 (1080p)
* Customizable ORIGIN top cover
* 2nd Generation Intel Core i5 or i7 Processors
* Overclocking up to 4.5GHz with Turbo Boost on Core i7 Extreme Edition processors
* NVIDIA GeForce GTX 460M 1.5GB or GTX485M 2GB
* FOUR Memory Slots for up to 32GB Dual Channel DDR3 1333Mhz or 16GB Dual Channel DDR3 1600MHz
* Bluray burner & reader, Hybrid and SSD drive with RAID options
* Full size keyboard with numeric pad
* HDMI Out; Optical Digital Out, up to 7.1 HD Audio with THX TruStudio support
* Built-In 802.11n & Bluetooth Support
* Bluetooth 3.0 & Wireless Video options
* Built-In TVtuner support
* Built-in USB 3.0 & E-SATA ports
* (W)16.22? x (D)10.87? x (H)1.65? 1.79"
* 8.6 lbs with the battery
"The EON17-S laptops are remarkably portable and with 2nd generation Intel processors overclocked to 4.5GHz, they are the fastest ORIGIN laptops ever built on an Intel mobile platform" said Kevin Wasielewski ORIGIN CEO and co-founder.
ORIGIN systems feature a 1 to 3 year free shipping and free part replacement warranty backed with the best in class integration, quality testing and support. ORIGIN offers a free life-time phone and online service guarantee and each customer has a dedicated support team and free life-time labor for upgrade needs.
About ORIGIN:
ORIGIN builds custom, high-performance desktops and laptops for hardware enthusiasts, professionals, and gamers. ORIGIN PCs are hand built, tested, and serviced by knowledgeable gaming enthusiasts, industry veterans, and award winning system integrators. Their staff is comprised of award-winning, experienced experts in the gaming and PC markets who want to share their passion with other enthusiasts. ORIGIN is located in Miami, FL and ships worldwide. For more information, please visit www.ORIGINPC.com or call 1-877-ORIGIN-. (674-4460)