10 Best Apple Apps For Sports Fans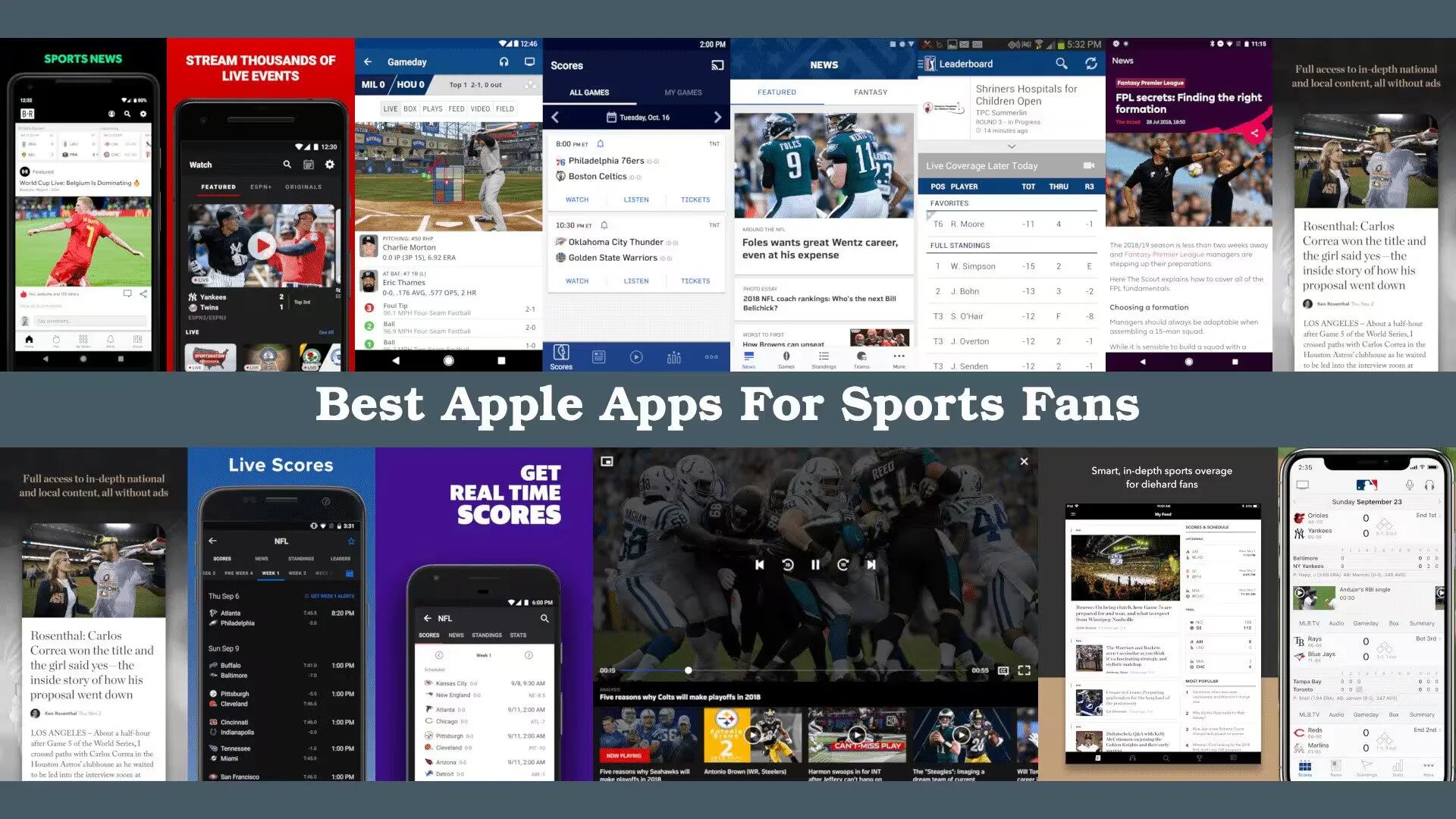 For the avid sports fan, it is always important to stay informed. Whether you are tracking a specific event or keeping tabs on a league that lasts for six months, staying in touch with the latest updates and information is part of the process. And these days, that means having the best apps at your fingertips. So here, we have come up with 10 apps that can serve any sports fan well.
1. theScore
theScore has gotten some buzz in the last year or two as one of the newer basic sports apps. And while it does not do many things that no other apps do, it does provide straightforward game results and stats in arguably a more efficient manner than any other service. So if you would like an app just for results and box scores, this is a nice one to have on your phone.
2. Bleacher Report
Bleacher Report's mobile app is one of the more comprehensive options, providing scores, stats, news, and stories. Its primary value compared to its competitors however is that it is designed largely to be tailored to your own preferences. You can make it easy in this app to follow just the teams and/or leagues you are interested in, if you would like a filtered news and information app.
3. ESPN
We mentioned Bleacher Report because of its customization and because it has a lot of fans. To be candid though, ESPN does everything Bleacher Report does and then some. Scores, stats, news, editorial content, customized team streams, and even live streaming and radio content are all bundled into this app. It is a robust digital service every bit equal to the task of representing ESPN on mobile.
4. NBA
We are listing the NBA first among league-specific apps because there is a legitimate argument that the NBA is surpassing the NFL as America's favorite sport. To be clear, the ratings are still on the NFL's side, but there is no question that trajectory favors basketball. That makes this a very relevant app, and it just so happens the NBA has done a wonderful job with it. Think of it as basically the ESPN app whittled down to NBA content only - and partnered with NBA League Pass, the subscription streaming service that gives you games every night all season long (as well as additional video content).
5. NFL
This is basically everything the NBA app is for the NFL, including NFL Game Pass, a subscription service including game streaming. The two apps actually mirror each other to an almost exact degree.
6. The Athletic
If you are the kind of sports fan who likes to read stories and keep up with the latest news, rather than just track scores and watch games, The Athletic is for you. This is a website and app built to compete with the big players in sports journalism (ESPN, Bleacher Report, CBS Sports, etc.), and so far doing a great job of it. There is a subscription fee to access all of the written content, but it is a very low fee and frankly, it is worth it.
7. PGA Tour
The PGA Tour app is your go-to mobile service for all things golf, including some fringe events that are not part of the annual tour. For instance, at the time of this writing the 2018 Ryder Cup is just about to tee off. This is an event in which America's and Europe's best take each other on in matchplay every two years, so it is not as if it is a yearly PGA event. Yet the PGA Tour app has coverage of this as well, because it is bound to interest professional golf fans. That is the level of attention you should expect from this app. It is a must-have for golf fans.
8. MLB At Bat
MLB At Bat is - you guessed it - like the NBA, NFL, or PGA Tour app, but for Major League Baseball. It carries up-to-date scores and stats and the latest stories, and is also built to help you customize the app for your favorite team as well. One interesting note with the MLB At Bat app is that there 's actually a cheap subscription for radio access, as an alternative to game streaming (which costs more). It is a good in-between option for those who want to follow their favorite teams' games but may not want to pay for streaming baseball all year long.
9. Premier League
Here again we have a league-specific news and update app, but one that bears inclusion here because of the ever-increasing popularity of Europe's greatest soccer league. With more and more people around the world following Premier League action, this has become a regular inclusion in people's bundles of sports apps. It has everything you might want from an app covering the league. It also has a built-in Premier League fantasy game allowing you to manage your own roster of players right alongside the real league information.
10. Yahoo Sports
Yahoo Sports is essentially another ESPN and Bleacher Report competitor, though it is deserving of mention because some have found it the best sports scores and news app. This is hard to argue definitively, but if you use it alongside other similar apps for long enough, it does start to stand out for ease of use, as well as perks like social media integration and helpful notifications. It is a matter of personal preference (we would still opt for ESPN), but it is definitely one to check out. As a bonus, Yahoo may have the best fantasy sports platform out there as well, though that is a separate app.
See Also