Yahoo Buys TV Companion App Developer IntoNow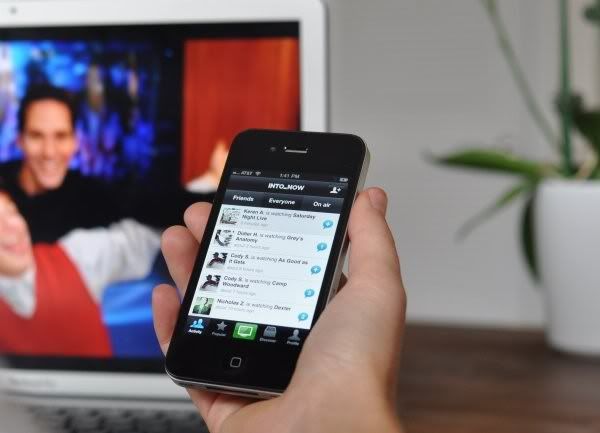 IntoNow launched its iPhone app that can identify what TV show you are watching by audio Shazam-style and then share it with others over Facebook or Twitter, pull in additional information or add the DVD to your Netfilx queue. Yahoo has purchased the company now. It wants to integrate its SoundPrint tech with its existing services including connected TV platform. As NewTeeVee suggests, this can tie in nicely with its existing plans to use audio watermarks to identify advertisements and display additional info on screen or work with a companion app. For more details read the press release.
Here is the Press Release
Yahoo! Acquires IntoNow; Technology Allows Users to Find, Discuss and Follow Their Favorite Television Programs

SUNNYVALE, Calif.--(BUSINESS WIRE)--Yahoo! Inc. (NASDAQ: YHOO), the premier digital media company, today announced the acquisition of IntoNow. Launched in January 2011, IntoNow has built a platform and companion TV application based on real time indexing of television that deepens the connections between audiences, television content and advertisers. IntoNow has indexed more than five years of US based television programming, creating a rich database to build video discovery and programming experiences. IntoNow is able to identify content down to the airing, episode and time within the program as well as provide program information and links associated with it, all within a matter of seconds.
"Relying on social channels as a means for discovering content whether it's on a PC, mobile device, or TV is rapidly on the rise. IntoNow's technology combines the ability to check-in to what a consumer is watching, engage in conversations, and find related content," said Bill Shaughnessy, SVP of Global Product Management at Yahoo!. "The IntoNow application the team has built clearly demonstrates the opportunities the technology presents across Yahoo!'s network, especially in regards to our video content, search, mobile and Connected TV experiences. We are excited to have the IntoNow team join Yahoo! as we continue to build out these experiences."
The addition of IntoNow will enable Yahoo! to provide enhanced media experiences and video programming, bolstering its social engagement across the Yahoo! network and on all screens. IntoNow users are able to easily engage with friends around the shows they enjoy most. IntoNow helps people discover new shows, discuss favorites with friends and learn more about them, and provides recommendations for what is currently airing based on their interests and those they are connected to. The application is also integrated with Facebook, Twitter, iTunes and Netflix to enable more sharing and information gathering.
"IntoNow has built a unique way for people to engage with each other around the content they enjoy," said Adam Cahan, CEO of IntoNow. "Companion applications and devices are changing the way we interact with TV in significant ways. The IntoNow team is excited to be joining Yahoo! to help create new consumer experiences and to be part of Yahoo!'s global scale and reach."
Financial terms of the transaction were not disclosed.
About Yahoo!
Yahoo! (NASDAQ:YHOO) is the premier digital media company, creating deeply personal digital experiences that keep more than half a billion people connected to what matters most to them, across devices and around the globe. And Yahoo!'s unique combination of Science + Art + Scale connects advertisers to the consumers who build their businesses. Yahoo! is headquartered in Sunnyvale, California. For more information, visit the pressroom (pressroom.yahoo.com) or the company's blog, Yodel Anecdotal (yodel.yahoo.com).
Yahoo! is the trademark and/or registered trademark of Yahoo! Inc.
All other names are trademarks and/or registered trademarks of their respective owners.