Watch ESPN App Is Now On Android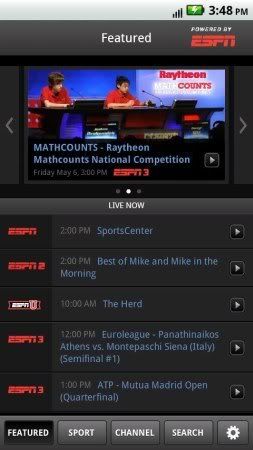 Watch ESPN App is now available on Android devices, brings the live video streaming of ESPN channels it features its debut on iOS last month. The interface running will require the installation of Adobe AIR on your Android 2.2 or higher device (no tablet optimizations yet and no mention on Honeycomb too read the press release for more details). Only TV subscribers to ESPN Networks enabled providers can stream everything while those with FiOS internet can access ESPN3, and all others are locked out entirely. If you have the right service click on the source link and download the app, dont forget to read the press release.
Here is the Press Release
'WatchESPN' App Now Available on Android Devices
App Gives Time Warner Cable, Bright House Networks and Verizon FiOS TV Subscribers Live Access to ESPN, ESPN2, ESPNU and ESPN3.com Content on Android Phone and Tablet Devices
NEW YORK, N.Y. ESPN, ESPN2, ESPNU and ESPN3.com are now available on Android phone and tablet devices to Time Warner Cable, Bright House Networks and Verizon FiOS TV subscribers who receive ESPN's linear networks as part of their video subscription. The WatchESPN App, can be downloaded via the Android Market beginning today. ESPN Goal Line and ESPN Buzzer Beater will also be available when those networks are in season.
The free App first launched to iPad, iPhone and iPod touch in April, 2011 features a simple user interface that takes the live viewing experience to the high-resolution, Multi-Touch displays of Android devices. Once a user downloads WatchESPN from the Android Market, he will receive instructions to enter the appropriate cable subscriber credentials to begin accessing ESPN content from the device.
The WatchESPN App is available free for Android devices from the Android Market and for Apple devices from the App Store.
ESPN first launched an online-accessible authenticated version of ESPN in October, 2010. Authenticated versions of ESPN2, ESPNU and ESPN Buzzer Beater/Goal Line launched in January, 2011. Consumers can access the channels through a centralized website, ESPNnetworks.com.
About ESPN, Inc.
ESPN, Inc., is the world's leading multinational, multimedia sports entertainment company featuring a portfolio of more than 50 multimedia sports assets. The company is comprised of seven 24-hour domestic television networks (ESPN, ESPN2, ESPNEWS, ESPNU, ESPN Classic, ESPN Deportes and ESPN 3D). ESPN, ESPN2, ESPNU and ESPNEWS HD are simulcast services. Other businesses include ESPN Regional Television, ESPN International (46 networks, syndication, radio, websites), ESPN Radio, ESPN.com, ESPN3.com (broadband sports network) ESPN Mobile, ESPN The Magazine, ESPN Enterprises, ESPN PPV and other growing new businesses, including ESPN on Demand and ESPN Interactive. Based in Bristol, Conn., ESPN is 80 percent owned by ABC, Inc., which is an indirect subsidiary of The Walt Disney Company. The Hearst Corporation holds a 20 percent interest in ESPN.
Click here to download your ESPN app