Vudu starts streaming movies to the browser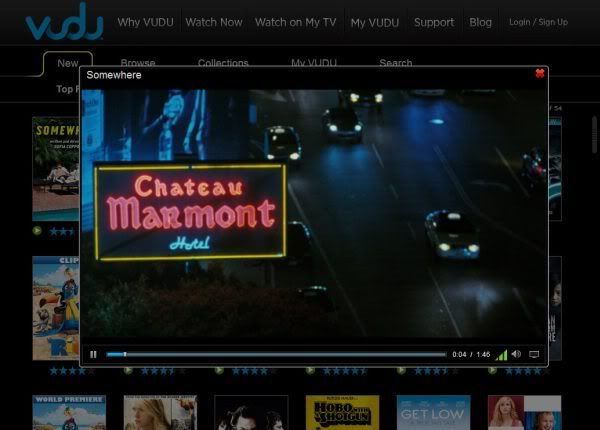 Vudus movie service is already available on 300-odd set top boxes and HDTVs including PS3 and Boxee Box, but now it can add your Personal computer too. The Flash-based player will let customers watch movies they have rented or purchased like any other device, but due to licensing issues it is limited to a maximum of 480p resolution with stereo sound for now.
This is disappointing for the company that pioneered high quality 1080p streaming with HDX format but it could help attract customers who find a rental packed in with one of their DVDs or Blu-ray discs from Walmart.
Here is the Press Release
VUDU Launches Browser-Based Streaming of Expansive Content Library on VUDU.com
Santa Clara, Calif. (April 12, 2011) VUDU, the leading subscription-free, video-on-demand movie service, announced today that it will make its vast library of content available directly on VUDU.com. Movie fans can visit VUDU.com to browse, select and instantly stream content from the company's massive selection of movies and television shows, including the newest releases from all major Hollywood studios and leading independent distributors.
"Customers will be able to enjoy movies instantly and easily at VUDU.com with no additional hardware or software download required," said Edward Lichty, general manager of VUDU. "This launch is part of our overall commitment to provide the VUDU service through as many points of access as possible, offering our customer the latest movies at the highest available streaming quality wherever they choose to watch. "
VUDU's browser-based streaming service gives movie lovers the opportunity to rent or buy content at VUDU.com and then watch the content on any of the more than 300 VUDU-enabled CE devices, including HDTVs, Blu-ray Disc players and the PlayStation 3. Through this launch, users will be able to access the same piece of content across multiple platforms so that they can begin a movie on VUDU.com and then finish watching that content on their home entertainment device, or vice versa.
About VUDU
A leader in HD streaming, VUDU offers the world's largest selection of HD movies, including thousands of blockbusters, Hollywood classics, and indies available in stunning HDX 1080p with Dolby Digital Plus 5.1 surround sound. Movies are available the same day they are released on DVD or Blu-ray, and can be rented or purchased without a subscription. VUDU is available on internet-capable HDTVs and Blu-ray Disc players from FUNAI Electronics (Magnavox, Sylvania), LG Electronics, Mitsubishi Digital Electronics, Panasonic, Philips, Samsung, SANYO, Sharp, Sony, Toshiba and VIZIO, and on the PlayStation3 computer entertainment system from Sony. VUDU is a wholly owned subsidiary of Walmart Stores, Inc., and is headquartered in Santa Clara, CA. For more information, visit http://www.vudu.com/.