Vertu Aster Smartphone With Top Specs And Features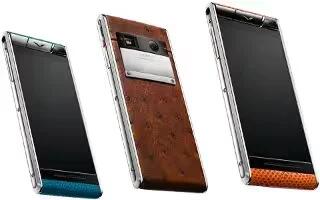 Vertu CEO Max Pogliani promised that "technology will be more a merging factor and not a differentiation point" for his phones. Now the new Aster launched today with promising specs and mid-tier price.
The Aster is a titanium Android device with a very nice design got a 4.7-inch 1080p display, a 5.1-inch 117 carat sapphire screen, a 2.3GHz quad-core Snapdragon 801 chipset, a 13MP Hasselblad-certified main camera with twin LED flash, a 2.1MP front camera, 64GB of internal storage, a 2,275mAh battery, front stereo speakers, NFC, Qi wireless charging and great LTE compatibility. With the specs out of the way, let's look at why this swanky phone starts from $6,900 or 4,200.
The Vertu Aster is offered with a range of skins and colors. The base price gets you calf leather in black, pink or blue, while 5,600/$9,100 gets you shiny snake skin in black or orange (the latter is this author's favorite), and you can max out at 5,900/$9,700 -- a "little" below the Signature Touch's 6,750/$10,300 base price -- for ostrich skin in brown or purple. This is pretty much why the Aster comes in at 11.2mm thick, which is just a tad more than the Signature Touch's.