Third Rail iPhone Case With Detachable Battery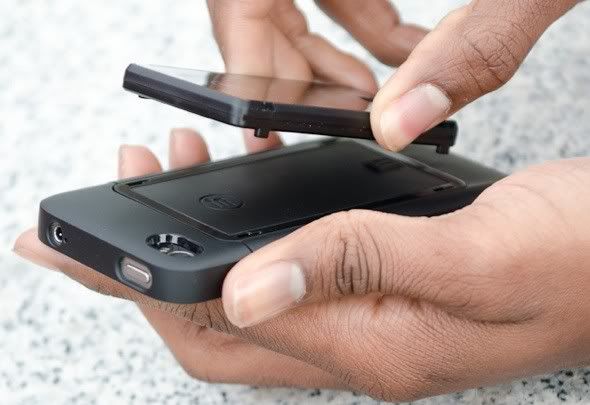 The Third Rail System includes an iPhone 4 slim case for $90, it always surrounds your device and a 1250mAh battery that you can slide into place whenever you need a boost. The removable batteries can charge other devices over micro USB, it can be stacked up to four deep for charging multiple gadgets at once. It is also designed to be compatible with future cases, is good solution for upgrading your iPhone. For more details read the press release
Here is the Press Release
New Third Rail System is the First Protective Case with Optional Slide-On Battery
Users can replace existing charging accessories with Third Rail Mobility's protective Slim Case and add-on Smart Battery
(Juno Beach, FL May 11, 2011) Third Rail Mobility (www.ThirdRailMobility.com), maker of power management accessories for Smartphone users, announces the Third Rail System the last power solution consumers will ever need. By offering add-on battery power for your iPhone 4 when you need it and doubling as an external battery solution for other mobile devices, this innovative response to common battery life problems replaces existing charging accessories.
As with most consumers, the founders of Third Rail Mobility were frustrated by mobile devices losing power mid-day and having no solutions beyond bulky permanent power cases and cumbersome external chargers. An all-inclusive solution to fit everyone's needs, the resulting Third Rail System provides continuous protection and optional power when it's needed. The outcome is a complete power solution that replaces bulky power cases, external chargers and traditional protective cases.
"Manufacturers are developing amazing new mobile devices and applications, but have been unable to address the central issue of battery life," said Brian Lemelman, CEO of Third Rail Mobility. "Until now, there hasn't been a one-size-fits-all solution to protective cases and backup batteries. The Third Rail System changes that and is the first solution that has the potential to replace traditional power accessories for mobile users."
The Third Rail System
The Third Rail System is comprised of the world's thinnest power-ready protective case (Slim Case) and a universal, interchangeable, removable battery (Smart Battery). It is the first to provide several different usage modes in one simple system functioning as a protective case, a power case, a portable external charger and a power hub for charging multiple devices at one time.
Slim Case by Third Rail
The Slim Case is the thinnest battery-enabled case on the market and is compatible with all iPhone 4 models. Unlike cases with built-in batteries, the Smart Battery slides onto the Slim Case for an easy charge and can be removed when power is not needed letting consumers fully control their power and leaving them with a sleek, protective case when charging isn't needed. Third Rail's proprietary technology seamlessly delivers power to the Slim Case from the Smart Battery without any cords. Conveniently, the case itself never needs to be taken off for charging or syncing.
Smart Battery by Third Rail
The Smart Battery is a super-slim, 1.4-ounce rechargeable 1250 mAh lithiumion battery that slides onto any Third Rail Slim Case. Through its micro-USB port, it can function as a stand-alone, universal charger for most other devices making it simple to share the power.
Smart Batteries can be stacked together to create a power hub, letting you collectively charge all Smart Batteries and any device plugged into them with a single AC or PC adapter. Additionally, instead of taking partially charged Smart Batteries with you on the go, stacked Smart Batteries will automatically and seamlessly transfer power to create as many fully-charged batteries as possible. The Smart Battery also features a built-in LED battery level indicator to show remaining Smart Battery life and to designate which battery has the most power for immediate use.
Initially available for the iPhone 4, Third Rail Mobility will launch additional Third Rail Slim Cases for other Smartphone models later this year. All Smart Batteries are future-proof and will work on all Third Rail cases, helping consumers save money and reduce waste by eliminating the need to purchase new charging accessories or batteries with each new mobile phone purchase. This interchangeability makes it easy to share power amongst users. For example, families can have multiple Slim Cases and share a Smart Battery to use on their heavy use days.
Looking forward, you can expect to see additional devices from Third Rail and its partners that will incorporate Third Rail's proprietary technology.
Available at ThirdRailMobility.com, selected retailers and online stores, the Third Rail System retails for $89.99 while individual components are sold separately: $39.99 for the iPhone 4 Slim Case and $59.99 for an additional Smart Battery. For more information on the Third Rail System, please visit www.ThirdRailMobility.com.