Sony S1 And S2 Honeycomb Tablets Gets Official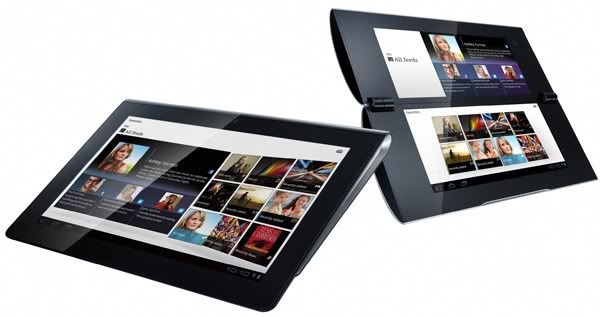 Sonys hosts a press event in Tokyo, their its announcement is a pair of Android Tablets, two Honeycomb slates, first one is 9.4-inch S1 media tablet with curved top much like folded magazine and both front and rear facing cameras. Some of the S1 specs are Tegra 2 SoC and customized Quick and Smooth touch panel UI with Swift web browser. It can also be used as remote for Sony gear.
The second tablet is dual-screen S2, with a pair of 5.5-inch, 1024*480 pixel displays, Tegra 2 SoC, and camera. It sounds bulky; Kunimasa Suzuki just pulled the hinged tablet from his packet on stage. Sony takes advantage of two screens with custom book style UI layout for its e-reader app, email and others. Both S1 and S2 is PlayStation Certified and are Wi-Fi and 3G/4G compatible devices. For more details read the press release and dont forgot to check the video.
Here is the video
Here is the Press Release
Sony Announces Optimally Designed "Sony Tablet" with Android 3.0 that Complements Network Services for an Immersive Entertainment Experience
-Also strengthening VAIO in expanding PC markets-
Sony Corporation ("Sony"), announces "Sony Tablet" that delivers the perfect combination of hardware, content and network with seamless usability for a high-quality, engaging entertainment experience. Based on decades of engineering heritage, Sony is developing two tablets with unprecedented design, including S1 (codename) which is optimized for rich media entertainment and S2 (codename) which is ideal for mobile communication and entertainment. "Sony Tablet" will become available in the global market starting in fall 2011.
"Sony Tablet" is equipped with the latest Android 3.0 which is designed for devices with larger screen sizes, particularly tablets. Both tablets are WiFi and WAN (3G/4G) compatible and users can not only browse the internet or check e-mail but they can also smoothly access digital content including videos, games and books through Sony's premium network services and more, on-the-go at any time.
S1 has a 9.4-inch display for enjoying the web and rich content on a large screen. Its off-center of gravity design realizes stability and ease of grip as well as a sense of stability and lightness, offering comfortable use for hours.
S2 has two 5.5-inch displays that can be folded for easy portability. In contrast to existing tablets, its unprecedented dual screen presentation and usability allows its displays to be combined and used as a large screen or for different functions such as playing video on one screen while showing control buttons on the other.
"'Sony Tablet' delivers an entertainment experience where users can enjoy cloud-based services on-the-go at any time. We're aiming to create a new lifestyle by integrating consumer hardware, including 'Sony Tablet' with content and network," said Kunimasa Suzuki, Corporate Executive, SVP, and Deputy President of Consumer Products & Services Group.
"Android 3.0 is a new version of the Android platform with a new holographic user interface that is designed from the ground up for devices with larger screen sizes, particularly tablets. I'm excited about "Sony Tablet" as it will further spur the development of applications and network offerings which users are looking for." said Andy Rubin, Senior Vice President, Mobile, Google Inc.
Also, in the mobile computing category, the market for PCs which realize high productivity is expected to steadily grow, particularly in emerging markets. Therefore, Sony will also remain committed to strengthening its VAIO brand and introduce increasingly compelling products which offer new value propositions to the market.
"Sony Tablet" features.
Designed for portability and intuitive gripping
With its off-center of gravity form factor, the 9.4-inch S1 offers stability and a sense of lightness, offering comfortable use for hours.
The dual screen S2 comes with two 5.5-inch displays which can be used together as one large screen to browse websites and more. They can also be used for different functions as users can watch a video on one screen and input commands on the other, or check email on one screen and use the other as a soft keyboard.
Seamless Usability and Performance
Through Sony's knowhow for combining hardware and software, "Sony Tablet" realizes optimal usability and performance. Because of Sony's rapid response technologies, users can perform smooth, quick touch-screen operations and enjoy fast and efficient website loading. The keyboard arrangement is also optimized for the large screen, making email and SNS communication a breeze.
Rich entertainment experiences through various network services
Through Qriocity1 music and video services, users can enjoy rich video and music content. Also, through PlayStationSuite, users can immerse themselves in high quality first generation PlayStation titles. Additionally, users can easily download ebook content from ReaderStore2 and use both tablets as digital reading devices. The integration with various services allows users to take their entertainment experiences on-the-go. Furthermore, "Sony Tablet" is equipped with functionality that organizes content for easy access.
Remote access functionality with AV devices
Through "Sony Tablet", users can control home entertainment devices as well as enjoy content in new ways. S1 uses infrared technology and works as universal remote controls for a variety of AV devices starting with . Users can perform functions like turning on their TVs, changing the channel and adjusting the volume. Also, through DLNA functionality on "Sony Tablet", users can "throw" personal content to large screen televisions or music to wireless speakers.
In 2010, Sony launched a network platform called "Qriocity" which connects many of Sony's network-enabled devices, and has been expanding its services into global markets. Also, Sony Computer Entertainment has been providing various contents and services for PlayStation users through PlayStationNetwork, which now has over 75 million registered accounts (as of March 20, 2011) worldwide.
Simultaneously, Sony will continue to announce various devices which leverage these services. Starting in early 2011, Sony Computer Entertainment announced the next-generation portable entertainment system (codename: NGP) while Sony Ericsson Mobile Communications brought "XperiaPLAY" to the market. Sony is introducing "Sony Tablet" to deliver an entertainment experience which integrates hardware with network services that deliver rich content.
With the establishment of Consumer Products and Services Group in April 2011, Sony will focus on accelerating the development of innovative next generation products and aim to deliver a new lifestyle by strengthening the integration of hardware and network services.
1 In markets where service is available
2 In markets where service is available