Samsung Shows S Pen Features For Galaxy Note 4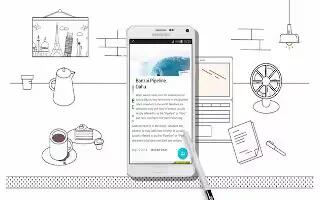 Samsung has published a video to its YouTube channel today demoing some of the enhanced S Pen features for your new Galaxy Note 4. The video shows some of the S Pen features already present on Galaxy Note 3 with some improvements.
The Enhanced S Pen features capturing on screen images, sharing items, taking notes on photographs, extracting information from screenshots and much more. You share information by retrieving it all at once in one swift move and share via email, text, Hangouts, Google+, etc. You can also save this information just for yourself or share it later.
Samsung video goes over "Smart Select" - this will allow you extract information and then link it to related apps - for instance, looking for a place to meet for dinner or to party? Capture a picture of the restaurant, hotel, resort, etc., and link it to the address in Google Maps and put that information in a link for recipients to read. Then send the information out and when you get responses back, you can link it to your calendar as a reminder.
The third and final item is the coolest one to me, called "Photo Note." With this application and S-Pen, you can actually take a photo/picture of a hand written note and the Galaxy Note 4 will convert the photo to an editable object. Edit it with your S-Pen (erase, add items, change figures, etc.) and then save your edited Photo Note as a digital file and share it with others.
Dont forget to look at the video
Click here for more on Galaxy Note 4