Samsung Galaxy S II Arrive In UK On April 27th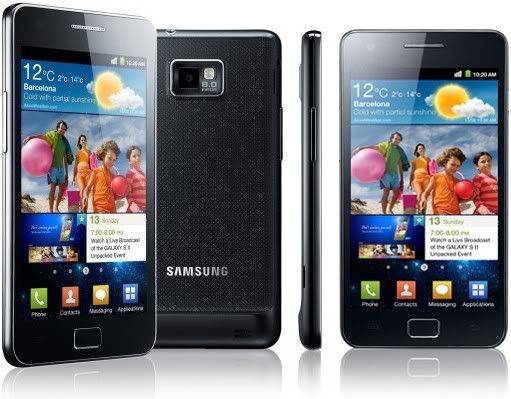 Samsung Galaxy S II to arrive in UK on April 27th, but through the retailer phones4u. The 1.2GHz Android smartphone has already been announced for availability in UK on May 1st, but phones 4u will get you the one as early as April 27th, it will give you a free 8GB microSD card if you pre-order one now. The Galaxy S II will be available for free on two-year contracts costing 35 per month and above and there will be a choice of carriers. For more details read the press release
Here is the Press Release
PHONES 4U TO BE THE FIRST MOBILE RETAILER TO LAUNCH THE NEW SAMSUNG GALAXY S II
LONDON, UK. 21st April 2011: Phones 4u can today confirm that from the 27th April, it will be the first mobile retailer to offer the new Samsung Galaxy S II. The youth mobile retailer has an exclusive lead to market on the device, which will be available both in Phones 4u stores and online. Customers can pre-order the Samsung Galaxy S II and get a FREE 8GB memory card, as well as read a hands-on review of the smartphone by visiting the Phones 4u website.
The new super-slim mobile from the lovely people at Samsung is a mere 8.49mm thick. But don't be fooled, that doesn't stop it packing a punch in the functionality department. Sporting the first Super AMOLED Plus display, you can watch movies, browse the internet and watch HD content all on a super vivid, high impact 4.3" screen. It has 1080p full HD video recording and playback capabilities, and a 1.2 GHz dual-core application processor for super fast performance, faster internet browsing and faster multi-tasking. The Samsung Galaxy S II also boasts an 8MP rear-facing camera with LED flash, and a 2MP front facing camera for taking those all-important Facebook profile pictures!
The new Samsung Galaxy S II isn't just about being super slim and super fast though...it's super convenient too. Not only does it offer instant social connectivity; the Social Hub allows you to streamline email, SMS, IM and SNS all into one place. The Music Hub, powered by 7 Digital, provides access to over 13 million tracks for discovering, downloading and enjoying on the go.
For the gaming fans out there, Samsung's Game Hub allows you to download and choose from over 20 social network and premium games. Plus, the accelerometer and gyroscope sensors make for a true-to-life extreme gaming experience! The clever Say N Go feature means you can get your shiny new Samsung Galaxy S II to do whatever you want it to, whether that's making calls or listening to your fave song...just by saying the word! With a customizable UI, you can even personalise the magazine style layout with your most frequently used content; music, games, video, email...the choice is yours.
Russell Braterman, Marketing Director at Phones 4u commented, "With its super-slim good looks and the latest Android 2.3 operating system, the Samsung Galaxy S II is the next step in the evolution of mobile. We're really proud to be the first retailer to offer the Samsung Galaxy S II to our customers. The original Samsung Galaxy S was hugely popular when it launched last year, and we're confident the Galaxy S II will be just as successful as its predecessor."
The Samsung Galaxy S II will be available from Phones 4u stores and online from 27th April. It will be available on contract Free from 35 a month on a choice of networks or on pay as you go for 499. Those who pre-order the Samsung Galaxy S II at Phones 4u online before 27the April will receive a FREE 8GB memory card