Quick Review: Sony Walkman NWZ-E454

For: Good battery life, Wide range of audio settings, decent audio quality
Against: Average bundled earphones, Screen is not smudge resistant
Specifications
Dimensions (W x H x D): 44.1 x 95 x 10.4 mm
Weight: 58 g
Capacity: 8 GB 46331486
Display: 2 inch (240 x 320)
Audio Formats: MP3, AAC, WMA
Video Formats: H.264, DivX, WMV
Images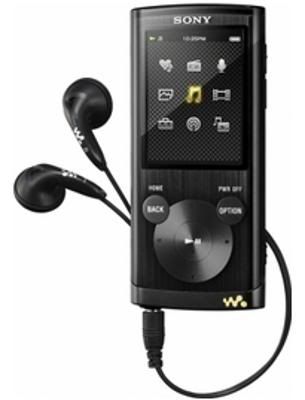 Review
The NWZ-E454 came out in November last year, and after the A845 and W252, our expectations for this were pretty high, but as good as it is, there is something holding it back from being great.
The player is really well built, but that didnt really come as a surprise. It has a glossy front panel with a matte finish at the back. The 2 inch QVGA LCD display accommodates 262,000 colors at a resolution of 240 x 320, but the screen is an absolute smudge magnet. The button layout is quite similar to that of the A845, i.e. a four way rounded keypad with a play/pause button in the middle. Towards the top-left is the back/home button; while on the right is an option/power button. On the right side is a hold switch, with volume controls at the top. Finally at the bottom, you will find the 3.5 mm jack and Sonys proprietary WM port.
Strangely E454 doesnt support FLAC or AVI formats, but others like MP3, WMA, AAC-LC for audio and AVC (H.264/AVC), MPEG-4, WMV9 and AAC-LC for video are supported. The player has five EQ presets and two custom presets, in addition to sound enhancement settings like dynamic equalizer, Virtual phones technology, etc. The player holds 8 GB of media and is bundled with a proprietary data cable, earphones and an attachment to support the player while it charges. The earphones are standard ear buds and not in-ear monitors, and the build quality is average, with soft plastic wiring that gets entangled easily. With all those equalizer settings and more options for sound enhancement, the E454 is one PMP that sounds really good and manages to do so even on default. While the highs and lows are nice and clear, the mid are decent too. While it was easier to hear vocals, the bass felt a little low. Some subtle details tend to go unnoticed, but you can tweak those with the wide range of audio settings.
The E454s video playback quality is average at best. Video playbacks lag a bit and theres a certain amount of pixilation. One big positive for the E454 is its battery life. It can go for about 43 hours while playing audio and 8 hours of video, which is very good. It may not be the best performer around, but aside from the average build quality, there really isnt too much to complain about. At INR 6,990, it is not overpriced, but there are much better alternatives around, like Zen X-Fi Style.