Quick Review: Acer Liquid Metal
For:
Good build quality, crisp display
Against:
Below average camera, sluggish UI, heating issues, low battery life
The Liquid Metal is the latest smartphone offering from Acer, and while many smartphones are content with sticking to Android 2.1, this phone runs on Android 2.2 out of the box. The phone is powered by an 800 MHz Snapdragon ARM processor and incorporates the Qualcomm Adreno 205 as its GPU. A large 3.6 inch capacitive multi-touch display sporting a resolution of 480x800 delivers crisp quality videos and photos. A 5 mega-pixel camera with an LED flash can record videos at 30 fps and an HD resolution of 720p. The handset also features Wi-Fi N networking. Dolby Mobile Sound enhancement. Acer;s own custom UI (Breeze 4.0), and a 1500 mAh battery with estimated talk time of 11 hours.
Specifications
Dimensions (W x H x D): 63 x 115 x 13.5 mm
Weight: 135 g
OS: Android 2.2 Froyo
CPU: ARM v7 SnapDragon 800 MHz
Display: 3.6 inch
Resolution: 480 x 800
Camera: 5 MP
RAM: 382 MB
Memory: 185 MB built-in, 8 GB micro SD card bundled
Images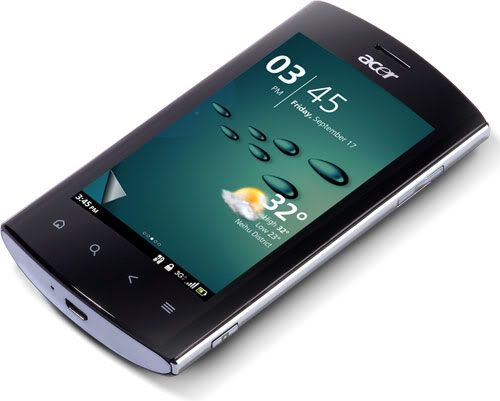 Quick Review
The phone has an excellent build quality and the battery cover is made of a brush finished metal (as the name indicates). But as elegant as it looks, the handset didn't manage to woo us as we had expected. There were a couple of flaws that we noticed while using the phone for a few days. Firstly, it feels a bit heavy and overall grip of the shell is not very comfortable.
The display is less readable in bright daylight, and to add to that, the curved glass tends to reflect the ambient glare from all angles straight into your eyes, making the user experience less than ideal. The display is not scratch and stain resistant either, so you will have to use it with care. Though the quality of the photos and video is really crisp, the videos tend to skip frames, which is quite irritating. Even the videos encoded to match the screen resolution suffered.
The 5 mega-pixel camera's still images were equally disappointing. Images showed noise and looked washed out indoors, and looked just about acceptable outdoors. Videos captured at 720pp and 30fps were extremely jittery. What's worse; it records both MPEG4 and H.264 videos in a 3GP container.
The Breeze 4.0 UI looks classy and rich, but is quite sluggish and confusing. If you are used to the basic Android UI, switching over to the Breeze UI will take you a few days to get accustomed. Luckily, an option to switch over to the basic Android UI is available.
The audio quality was disappointing. We found the inclusion Dolby Sound Enhancement almost useless as the sound quality without the Dolby enhancement was actually better. The phone seems to have a hot swappable micro SD card slot, but the battery gets in the way, and you need to switch off the phone, remove the battery and the retrieve the card. The rated battery life is quite mediocre. The phone battery died after merely five hours of basic use. We also noticed that the back of the handset would heat up a little too much while charging and also when in use.
While the specifications and aesthetics of the Liquid Metal were really tempting, the overall experience was very disappointing. If you are looking for a phone in a similar budget, we would seriously advise checking out other brands.
Bottom Line
An elegant phone with many flaws and a hefty price tag.
Please leave your comments below.