Over 10 Million Scammed on Facebook
As we reported yesterday, the scam is going very dangerous now; Spammers have invited over 10 million users to fake events in yet another new attempt to generate income from online survey scams according to a Sophos. The scam is in progress and several thousand unwitting Facebook users are falling to prey it.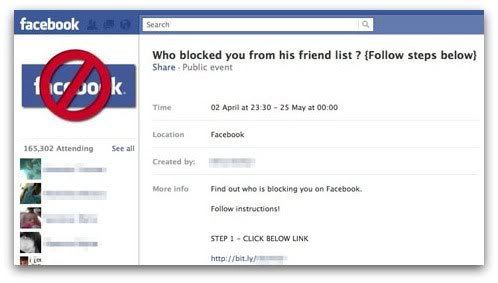 Another one new event is We blocked you from his/her friends list? has already tricked over 165,000 people in to signing-up, with an astounding 10.3 million users still deciding whether or not to respond. Scammers embed instructions in More info section of the events summary and these convince Facebook users to unwittingly visit the webpages for online survey for competitions, which are the source of the revenue for the scammers. Sometimes the users are asked to provide the mobile phone number, and the users is nave enough to provide it, he/she will most probably end up getting signed up for expensive premium rate services.
Want to know more on this Scam; Check the link on what we got yesterday
http://www.primeinspiration.com/technology/internet/news/234-in-spite-of-scam-facebook-not-closing-today.html