LG G2 Android 5.0.1 Lollipop Screenshot Leaked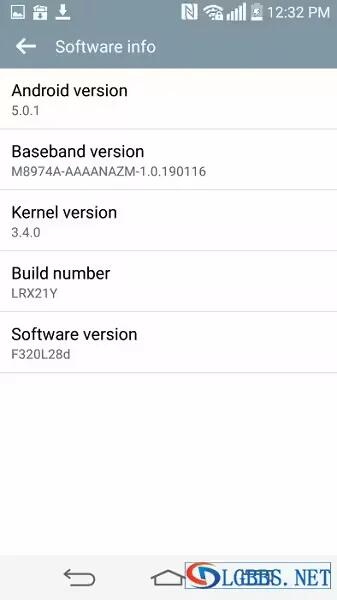 A screenshot surfaced today that might shed some light on the matter. It appears to show a F320L version of the LG G2 running an Android 5.0.1 build. Even more encouragingly the UI, visible in the picture seems to bear all the design and visual characteristics of LG's new GUI, which first appeared on the G3. So it seems the year-old smartphone will receive the full update package, complete with the fresher interface.
This is all but justified, given that the LG G2 still packs quite the punch and can easily compete with current devices. Its more-than adequate Snapdragon 800 SoC, 2GB of RAM and 5.2-inch 1080p display are more than worthy to be adorned by Google's latest OS version.
One more important detail needs to be noted about the screenshot, namely that it is obviously taken from a F320L G2 unit, which is the LTE-A model, exclusive to South Korea. This of course comes as no surprise, given LG's track record of beginning update roll-out on the domestic market first. If the rumor is true and the photo real, Lollipop builds for the international LG G2 versions can't be far behind and should grace user's phones pretty soon.
Click here for more on LG G2