LG adds Tweet-TV enabled Android Phone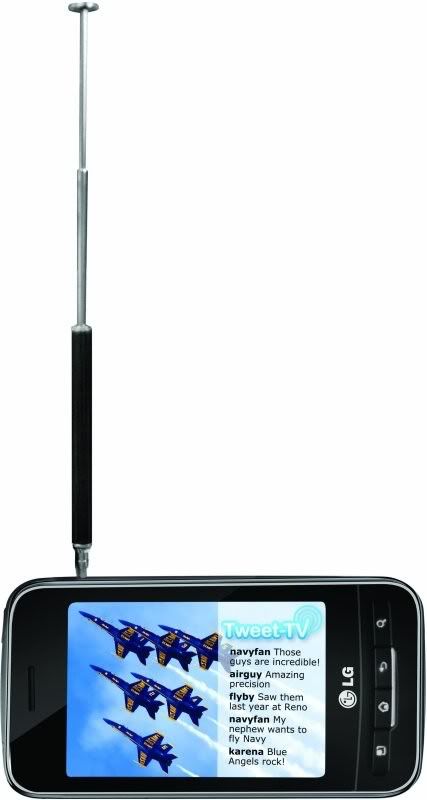 Mobile digital television finally take off LG will be ready and its last concept is the design of the device. The auto stereoscopic 3D screen shown at CES is the Tweet-TV. At the National Association of Broadcasters show this week its demonstrating the prototype Android phone with a Harris MDTV antenna that also pulls in relevant tweets and displays them over the broadcast being watched. The Social Networking will help MDTV succeed where the others have failed remain to be seen.
Here is the Press Release
LG ELECTRONICS SHOWS EXPANSIVE CAPABILITIES OF MOBILE DIGITAL TV, DEMONSTRATING 'TWEET-TV' SOCIAL NETWORKING, ELECTRONIC COUPONS, 'GLASSES FREE' 3D
Prototype displays, Smartphones highlight flexibility of mobile DTV standard
LAS VEGAS -- Apr 08, 2011 / (http://www.myprgenie.com) -- As mobile digital television broadcasts ramp up this year, the television receiver of the future will fit in the palm of your hand and do much more than just deliver breaking news, weather alerts, and favorite shows. In fact, the very digital TV broadcasting system used to deliver today's information and entertainment programming to mobile devices can also deliver up-to-the second social networking updates, engaging three-dimensional (3D) telecasts, and electronic coupons that would help eliminate the need to clip or print out coupons.
The first mobile digital TV that displays 3D images broadcast via the ATSC Mobile DTV Standard is being demonstrated by LG Electronics at the 2011 NAB Show here this week. The prototype 7-inch receiver is designed with auto-stereoscopic capability that eliminates the need for special viewing glasses to see stunning 3D TV images.
LG also will show an innovative social network services application for the first time. Viewers engaged with Tweet-TV would be able to interact with program content and submit their comments on programs. The broadcaster consolidates the real-time comments and transmits those short messages with the video and audio, enabling a transparent conversational overlay. The application enables viewers to carry on an open discussion of program content or reply to questions that could be part of an audience quiz.
In addition, to show how local TV broadcasters can now offer more than just linear TV channels, LG Electronics is showing its first Android-enabled smartphone prototype equipped with Mobile Digital TV (MDTV) reception, which offers conditional access functionality for future subscription broadcasts and the capability of receiving "non-real time" data such as electronic coupons or "real-time" data reception with applications like Tweet-TV.
"The ATSC Mobile DTV standard offers broadcasters remarkable flexibility to address the changing demands of consumers and advertisers," said Dr. Skott Ahn, president and chief technology officer, LG Electronics, Inc. "As broadcasters continue their national rollout of Mobile DTV, LG is proud to lead the transition with the latest innovations in mobile DTV services like 3D and applications like Tweet-TV and Electronic Coupons."
The demonstrations are made possible through a cooperative effort with Harris Corporation, which has developed the necessary MDTV transmission equipment, and local DTV broadcasters KLAS-TV, 8 News NOW in Las Vegas. Roundbox, a leading mobile software provider, is providing non-real time data services that power the Smartphone coupon application, as well as the Electronic Services Guide (ESG) for all three of the innovative applications for ATSC MDTV.
Tweet-TV with Mobile DTV
In collaboration with Roundbox, LG is demonstrating the new "Tweet-TV" mobile DTV application that will allow viewer "tweets" to be displayed interactively on a mobile DTV receiver while a program is airing. A Harris MDTV transmitter will deliver viewer tweets that are received as data files and displayed in a transparent panel over a portion of the LG mobile DTV screen, a prototype version of an LG Android smartphone.
Glasses-Free 3D Mobile DTV
In the Las Vegas demonstration, the 3D signals are being internally transmitted at the Convention Center to receivers throughout the North Hall. Receiving the signal is LG's prototype receiver built around the LG2161 demodulator chip and LG-exclusive 3D formatting circuitry that combines the side-by-side left and right images for seamless viewing without the need for 3D eyewear commonly used for 3D TVs.
The seven-inch barrier-type LCD display shows lifelike 3D images that appear to jump right off the screen. With its built-in antenna, the device also receives conventional 2D 416x240 resolution MDTV broadcasts and scales images up to 800x480 resolution. It also functions as an attractive digital photo frame when not being used as a Mobile DTV receiver.
Electronic Coupons from your Smartphone
Non-real time services such as electronic couponing and video-on-demand are made possible by the versatile ATSC Mobile Digital TV standard now being deployed by broadcasters throughout the U.S. KLAS-TV 8 (RF channel 7) is transmitting digital coupons for electronics stores and restaurants during CES.
The smartphone prototype for both the Electronic Coupon and Tweet-TV demonstrations is LG's first full-touch CDMA device with built-in Mobile DTV circuitry. Running the Android 2.2 (Froyo) operating system and LG's second-generation MDTV chip, the fully-featured Smartphone includes a 3.2" HVGA screen, 3 megapixel camera, GPS and Wi-Fi capability, and other features such as an accelerometer, digital compass, and ability to play back a variety of audio and video codecs.
Chips Available for Portable Device Manufacturers
Co-developer of the technology at the heart of the ATSC Mobile DTV Standard, LG Electronics is producing the critical component for Mobile DTV reception -- the LG2161R single chip design that includes both the tuner and demodulator in a tiny seven-by-seven millimeter square package. This key component of mobile DTV receivers already can be found in a variety of new products being introduced by various manufacturers this year for mobile DTV, from laptop USB accessory receivers to prototype netbooks with integrated mobile DTV tuners.