India Fight For Net Neutrality By Sending Over 1 Lakh Emails To TRAI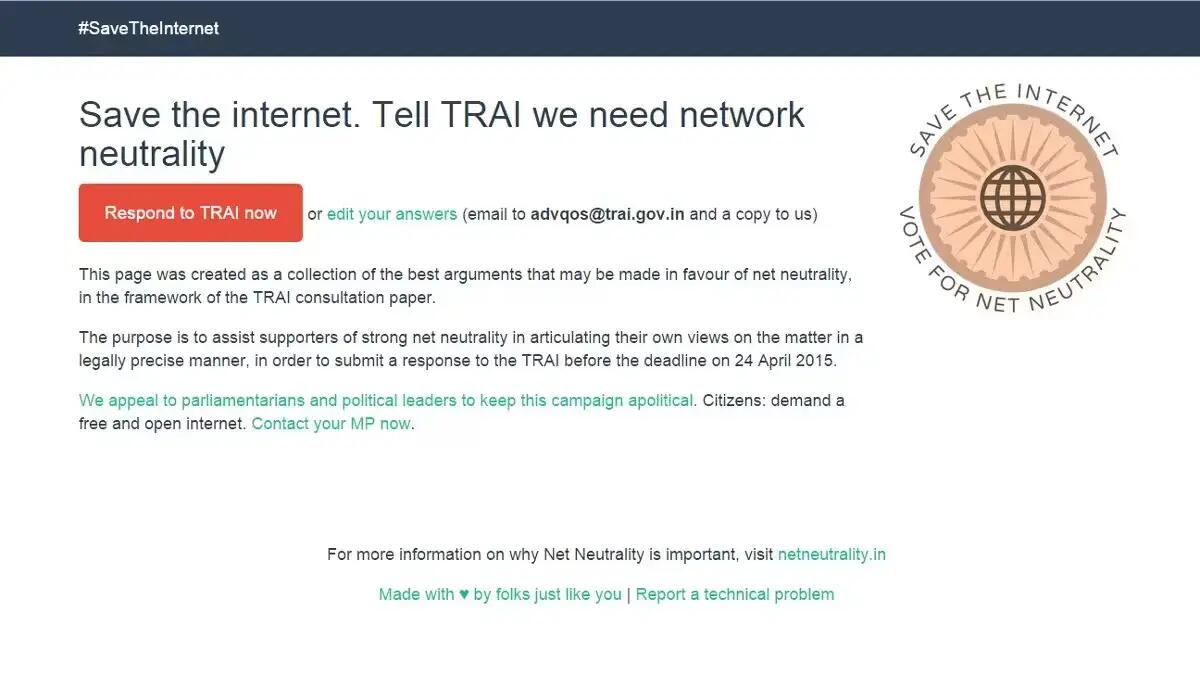 Indians had sent over 1 lakh emails to the Telecom Regulatory Authority of India (TRAI) to stop Indian telecom operators from destroying net neutrality.

Indian telecom operators have gone to Telecom Regulatory Authority of India (TRAI) to allow them to block apps and websites and charge money from both consumers and businesses to the detriment of users. This move caused a nationwide protest and people from the country including politicians and celebrities are rallying up to save the Indian Internet.
Internet has caused major change in the mindset of Indian on how they perceive the world. This move by telecom operators has caused a widespread protest across the country. The supporters had sent more than one lakh (100,000) emails to TRAI through the savetheinternet.in website. Out of the 100,000 emails, over 27,000 e-mails are in favor of net neutrality. The emails have been sent in response to the TRAI's call for public consultation. The scheduled government deadline for sending in feedback will lapse in a week.
The idea of net neutrality or free and equal Internet to all has gathered a wide attention from across the globe. Countries like the US, Chile, Netherlands and Brazil have separate Net Neutrality laws that don't allow discrimination of Internet content or charge users differently based on the content, site, or platform they consume, back in India, TRAI has also asked for mass feedback to help formulate regulations for consuming the Internet.
Although consumers are in favor of net neutrality, telecom companies are standing on one leg against the concept of Net Neutrality. Owing to the notion that bringing equality of Internet is cutting down their prospective revenue from the OTT services that are offered through their network.
Net Neutrality is the Internet's guiding principle: It preserves our right to communicate freely online. This is the definition of an open Internet.

Net Neutrality means an Internet that enables and protects free speech. It means that Internet service providers should provide us with open networks - and should not block or discriminate against any applications or content that ride over those networks. Just as your phone company should not decide who you can call and what you say on that call, your ISP should not be concerned with the content you view or post online.

Without Net Neutrality, cable and phone companies could carve the Internet into fast and slow lanes. An ISP could slow down its competitors' content or block political opinions it disagreed with. ISPs could charge extra fees to the few content companies that could afford to pay for preferential treatment - relegating everyone else to a slower tier of service. This would destroy the open Internet.
If you are interested in preserving the freedom of Internet and you are Indian please send your thoughts to TRAI via savetheinternet.in campaign.