How To View Videos On Image Viewer - Samsung Galaxy Tab 4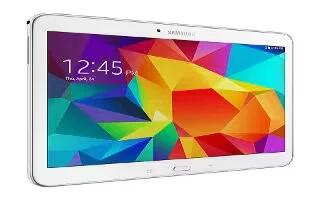 Learn how to view videos on image viewer on your Samsung Galaxy Tab 4. After recording a video, use the Image Viewer to play, share, or delete your video.
Touch Image Viewer to view the video.
Touch the screen to show or hide Image Viewer options.
Sweep across the screen to display the next or previous video. The current video is outlined in the thumbnails at the bottom of the screen. Touch a thumbnail to view the video it represents.
Touch Share icon to share the video. Touch an option, such as Bluetooth, and follow the onscreen instructions. After using this option, the most recent Share option is displayed in the Application Bar.
Touch Menu icon > Slideshow to display a slide show of the available pictures and videos.
To delete the video being displayed, touch Delete icon.
Note: Videos are stored in the Device storage/DCIM/Camera folder as mp4 files.
To play a video, touch Play icon. Touch Pause icon to pause the video and touch Resume icon to resume playing the video.
Touch SoundAlive icon to set the sound quality.
Touch and drag the Progress Bar icon end of the progress bar to fast forward or rewind the video. Touch the left end of the progress bar to restart the video. Touch the right end of the progress bar to end the video playback.
or
Touch Rewind icon to restart the video or Fast Forward icon to end the video.
Press Back Key to return to the Camcorder.
Note
This guide will work on all Samsung Galaxy Tabs; including Samsung Galaxy Tab 4 7.0, Samsung Galaxy Tab 4 8.0 and Samsung Galaxy Tab 4 10.1.