How To View Online Albums On Sony Xperia Z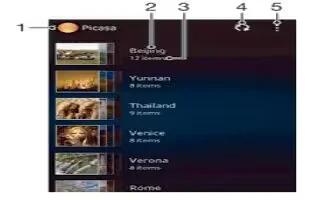 Learn how to view online Albums on your Sony Xperia Z. In Album, view the photos and videos that you and your friends have uploaded to online services, such as Picasa and Facebook. You can view comments from your friends and add your own comments as well.
Overview of online services
Active online service.
Name of online album.
Number of items in the online album.
Refresh.
View menu options.
To view photos from online services in Album
Make sure you are signed in to the online service that you want to use, for example, Facebook.
From your Home screen, tap Apps icon.
Find and tap Album > My albums.
Tap the desired online service.
Tap Connect. All available online albums that you have uploaded to the service are displayed.
Tap any album to view its content, and then tap a photo in the album.
Flick left to view the next photo or video. Flick right to view the previous photo or video.
To view and add comments to online album content
When viewing a photo from an online album, tap the screen to display the toolbars, then tap comments icon to view the comments.
To view more comments, scroll down the screen.
To add your own comments, enter your comments at the bottom of the screen, then tap Post.
To "Like" a photo or video on Facebook
While viewing a photo or video from one of your Facebook albums, tap the screen to display the toolbars, then tap Like button icon to show that you "Like" the item on Facebook.